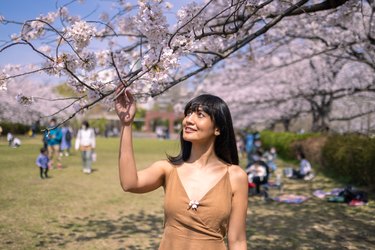 Tax Day 2021 may have been pushed back a month, but there's a very good reason to file your 2020 returns ASAP. If you expect to get a check from the government, rather than pay the IRS, you may already be dreaming about how you're going to spend that surprise infusion of cash. After all, it's not like we have any shortage of needs to fill.
Yet according to new survey data from MyBankTracker, our 2020 refunds may not see much action right out of the gate. Nearly 20 percent of Americans said their first priority would be building their savings — not necessarily a bad idea, when so many of us are up against major systemic forces that make it difficult to build a nest egg or emergency backup. We've had three rounds of COVID relief checks already, much of which Americans have devoted to paying down bills or debt, which 14 percent of survey respondents said they'd continue to do.
In fact, we plan on being very responsible with our tax refunds this year. Just under 3 percent of respondents said they'd spend theirs on "something fun," like personal goods or meals. It's worth noting that we don't really budget for tax refunds the way we would any other gift or income — in fact, we act like we're surprised and treat it as a windfall. Still, being responsible can take a lot of weight off your shoulders. Experts recommend building your financial cushion, paying down debts, and investing more or less safely, though when you can swing it, indulgence is almost always worth your while.