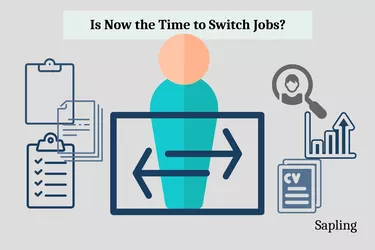 Switching jobs for higher pay, career advancement and greater flexibility has been the anthem of a pandemic-influenced workforce. But is it too late? With interest rates on the rise, the rumbling of a potential recession and the annual inflation rate still hovering above 8 percent, you may wonder if you've missed the window to wield your competitive advantage in the job market.
Economic uncertainty might be enough to keep you right where you are, and that's OK. But if you have other reasons to leave your current position, those might outweigh the fickle stock market and to-be-determined economic prognosis. After all, the job market still puts workers in a favorable position.
While no one knows exactly what next month or next year brings, the competition for workplace talent is alive and well among employers.
In August 2022, the Bureau of Labor Statistics (BLS) reported 11.2 million open jobs and about 5.5 million unemployed workers, meaning there were two available jobs for every potential job seeker. In July 2022, 4.2 million workers left their jobs — nearly 20 percent higher than pre-pandemic levels. The quitting is still happening, and job openings are still hitting record highs.
According to a recent Q3 2022 Deloitte baseline forecast, the tight job market is expected to continue through the end of 2022, even if job growth slows. According to this prediction, labor force growth will remain slow, and employers will continue to be challenged with finding workers.
While no one knows exactly what next month or next year brings, the competition for workplace talent is still alive and well among employers. McKinsey & Company urges employers to learn how to match their demand for talent with the workers who can — and want — to bring it.
Simply taking advantage of the Great Resignation or the Great Attrition isn't enough in itself to warrant a career change. While watching nearly 48 million workers leave their jobs in 2021 definitely may spark inspiration, if you are considering a job transition, there must be valid reasons you are on the search and a job target you are seeking.
According to a 2021 Pew Research study, 63 percent of those who quit said low pay or lack of advancement opportunities were their top reason. Another 57 percent felt disrespected in the workplace, while more than 45 percent left due to schedule-related issues.
Maybe you need more scheduling flexibility or have decided to move from your current field and train in something new. Whatever the reasons, have a clear understanding of what you want in your next job and how you intend to position yourself for it.
Don't Rule Out Current Job
If you are mostly happy with your new job but want to negotiate for characteristics that have grown in importance to you, you may want to pull your current boss to the bargaining table. Instead of leaving your job, leverage your strengths (and the tight job market) to get more out of your employer.
A July 2022 Pew study found that 60 percent of job-changers saw a wage increase with a new employer, while 47 percent were able to secure a higher wage with their current employer.
If your workplace is experiencing turnover, it may be a great time to position yourself to take on new responsibilities, showcase your worth and negotiate the pay (or other perks) to match.
The workforce doesn't need to be experiencing a major shift to justify keeping your eyes open for a great opportunity or exploring LinkedIn for your dream job. Even people who love their jobs keep their goals alive and an eye on professional advancement by knowing what opportunities excite them. Knowing what "next steps" might be open to you also helps you understand what skills are important to focus on and grow.
As employers in 2022 continue to learn how to evolve and attract talent, now is as good a time as ever to evaluate what is most important to you, learn what motivates you and set your career goals accordingly. That may lead to a job transition today or in five years. The right time is the one that works for you.