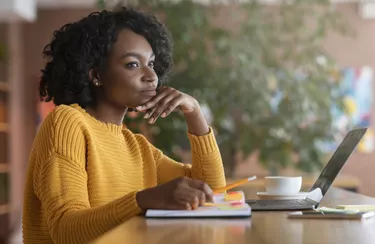 Daydreaming about a new job or career change? If you are thinking about joining the ​47 million workers​ who left their jobs in 2021, with today's record-high inflation, you may be weighing the security of your current job against the potential risks of the job hunt. There are some signs that it's time to be on the lookout for something new.
1. Burnout and Emotional Exhaustion
Feeling the temporary stress of meeting a deadline is one thing; living with chronic work-related burnout is a warning sign. If your current job and working environment have you in a constant state of stress, fatigue and anxiety, that's a major indication that you have a skewed work-life balance in your workplace.
Workplace burnout has long been a thing, but the pandemic kicked it up several notches. Compounded stress during the pandemic put a magnifying glass on the importance of balance, mental health and emotional well-being as they relate to work and personal life.
A Harvard Business Review study revealed that 90 percent of workers surveyed felt their work lives had worsened during COVID, and 60 percent thought it was at burnout level. If that is how your current job feels, it may be time to consult a career coach or recruiter. Evaluate what about your current job caused burnout and what would work better for you, and then start your job search from there.
As Mayo Clinic advises, it's not in your own best interest to let a "demanding or unrewarding job undermine your health."
2. You Aren't Making an Impact
Nothing drains job satisfaction like the feeling that your work is meaningless. It's natural to question the value of your work at times, as not everyone's role directly impacts the world in an immediately measurable way. But if you can't shake the feeling that your hard work is going nowhere, maybe it's time to look for a new position or even a new field.
​Joining the job seekers doesn't mean quitting tomorrow and blindly hitting the job postings.​
The pandemic, like any crisis, heightened a lot of emotions, from fear and loneliness to the feeling of being in this together, bonding and finding connection.
The global health crisis was also a catalyst for change: at home, at school, in business and in society. It makes sense that the desire to do meaningful work and make a difference would be lasting changes.
If you are reevaluating the work you do and wanting something different, it could be time to research new careers that will allow you to pursue your aspirations. Before putting yourself out on the job market, determine what new skills would help you reach your new goals and make a plan to develop them.
3. Your Current Job Is Inflexible
The pandemic changed the way we work and, in some ways, it shifted the power balance between employer and employee. Employers still struggle to build their teams with the labor shortage still at play.
Remote work evolved from a temporary fix to a bargaining chip to attract or retain employees. Analysts and consultants agree that "worker power" has been on the rise and, thanks to technology and human agility, flexibility in the workplace is here to stay.
According to LinkedIn Talent, some options for workplace flexibility that employers should consider include remote work, flexible working hours, a compressed workweek, job sharing and unlimited paid time off (PTO). Considering that LinkedIn facilitates over ​8,600 new hires​ daily, it's safe to say that the company has its finger on the pulse.
Now, of all times, if you can't get the flexibility you need for work-life balance, job satisfaction and physical and mental well-being, it might be time to find these in your next job. Many employers are also upping the ante in terms of benefits, and pay too.
4. You Dread Monday Morning
While "a case of the Mondays" makes for some funny memes, if you truly cringe at waking up to a new week of your workplace, co-workers, company culture or daily tasks, it's time to hit the job board or seek career advice.
Joining the job seekers doesn't mean quitting tomorrow and blindly hitting the job postings. In today's tight job market, you may just want to research what's out there. Talk to people already on career paths that you think you might love. Considering that three out of every 10 Americans left positions for a better job offer last year, odds are good that you may know someone who has taken the plunge.