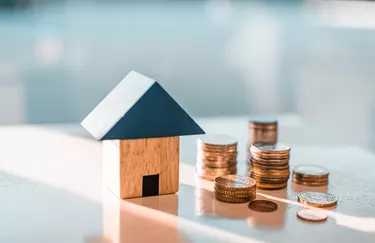 It's probably not a surprise that first-time home buyer programs can save you a lot of money on your first leap into owning real estate. Federal Housing Authority (FHA) loans and state and local homebuying programs can secure you a loan with lower down payment and interest rate if you qualify. A recent TikTok hack advises married couples not to cosign on a first home and instead take the benefit twice and buy a second property. Does that make sense for every couple – and does it work?
Why a TikTok Hack Promotes Individual Mortgages
TikToker kplezzz urges married couples not to cosign on a joint mortgage for a first home, theorizing that this wastes an opportunity for a couple to build wealth.
The suggested money hack is to have only one spouse purchase a home with an individual mortgage, using a first-time homebuyer program and securing a low interest rate. Then, the second spouse purchases a second home with the same first-time benefits. Now, kplezzz says, the couple "has control over two pieces of real estate at 3.5 percent each."
The math behind the hack claims that if each spouse puts just 3. 5 percent down on two separate $350,000 houses, the married couple's out-of-pocket cost is only $12,250 for $700,000 worth of real estate. Had they cosigned on one home, they would be out $70,000 for just half that amount of property.
Which begs the question: Is this possible? As with all things homeownership, it all comes down to the buyers' personal finances and ability to get a loan – and a lender's willingness to take risks.
Does This TikTok Wealth Hack Actually Work?
In a vacuum, the wealth hack seems plausible. But in real life, it's doubtful.
First, the common factors that impact every mortgage must be considered. Any bank, credit union or housing counselor will name several main considerations that determine if you qualify for a home loan and how much you may qualify for.
credit history
income
debt-to-income ratio (DTI)
down payment
employment history
loan type
loan term
In short, how much money you need, how much money you can afford to pay back and how much risk the bank is willing to take will impact your ability to secure a loan.
For this TikTok wealth hack to work, both spouses must qualify for a mortgage on their own without using the other spouse's income, credit score and credit history or their shared collateral. If the bank approved each mortgage separately and each spouse was capable of paying the mortgage, in theory, a couple could purchase two separate houses without cosigning for each other.
The next hurdle is "controlling two properties." Most first-time homebuyer programs require the property to be the homebuyer's primary residence. So, this isn't likely to work unless the couple also plans to live apart.
What Might Work for Some Couples
There is no such thing as a one-size-fits-all mortgage. Home loan decisions are based on the details of an individual's personal finances and a financial institution's lending capacity.
Perhaps this wealth hack could work if the couple wasn't trying to own two properties concurrently and both spouses were financially solvent enough to purchase a house independently at different times.
Spouse 1 could buy the "starter home" with a first-time homebuyer program, and ten years later, Spouse 2 could use their own first-time homebuyer benefits for the "forever home." However, the higher the price tag of the forever home, the more difficult it may be for just one spouse to qualify for the mortgage.
Other Considerations for Individual Mortgages
Putting a home in just one spouse's name might affect a couple's taxes and the other spouse's ability to build credit. Not to mention that a home is one of a couple's most significant and costly shared assets. Different states have different laws about marital property in the case of divorce.
That said, for some couples, not cosigning is helpful when one spouse has high debt, a low credit score or poor credit history.
In short, rather than attempting this TikTok hack, married couples should talk to a lender, financial advisor and personal attorney to develop the best way to build wealth through real estate.