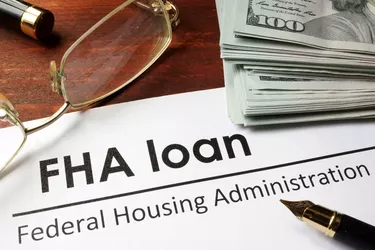 Homeownership is a goal for many people who wish to stop renting. With help from the Federal Housing Administration, owning a home can become much more attainable. By qualifying for an FHA mortgage loan, homebuyers are able to purchase a primary residence. But where does this sort of help stop? Would a person be able to purchase a second home using an FHA loan?
Part of the U.S. Department of Housing and Urban Development (HUD), the Federal Housing Administration (FHA) insures loans so lenders can offer prospective home buyers a lower rate. According to HUD, the FHA provides low down payments, low closing costs and easy credit qualifying.
FHA loans can be used by first-time homebuyers and can even lower down payments to ​3.5 percent​ of the purchase price on single to four-unit properties, HUD writes. Loans from the FHA can also help to finance the purchase of mobile homes and factory-built housing. They do this by offering two types of loans: one for those who own the land the house sits on and another for mobile homes that are located within a mobile home park.
The FHA also offers reverse mortgages for homeowners over ​62​ who still occupy their homes and have a low loan balance. According to HUD, you can also factor in energy improvement costs into an FHA Energy-Efficient Mortgage for environmentally conscious homeowners and those who wish to take advantage of the lower utility bills that come with an environmentally conscious home.
To qualify for an FHA loan, applicants must have a FICO score of at least ​500​, pay the mortgage insurance premium (MIP) and have a debt-to-income ratio of less than ​43 percent​. Borrowers must also have a steady income and provide proof of employment before they are accepted. FHA loans are also available to borrowers who have experienced bankruptcy or foreclosure in the past. To qualify for ​3.5​ percent of the purchase price as a down payment, borrowers must have a FICO score of at least ​580​.
There are lending limits to FHA loans, and these vary by the area you live in. Lending limits are the maximum loan amount that the FHA will insure. Influenced by the Fannie Mae and Freddie Mac loan limits, they are calculated and updated annually. They also vary depending on the type of home, such as single-family, duplex, triplex and four-plex. The FHA loan limit in low-cost areas in 2021 for a single-family home is ​$356,362​, while the loan limit in high-cost areas for a single-family home is set at ​$822,375​.
How Often Can You Qualify for an FHA Loan?
Generally speaking, most FHA mortgage loan borrowers can purchase just one home. As of this writing, the FHA single-family home loan program permits FHA loans only for owner-occupiers. Defined by HUD, an owner-occupier is the borrower who signed the security instrument and mortgage note and occupies the property.
It is required that the borrower occupies the property as their principal residence within 60 days of signing the security instrument and continues to occupy the home for at least one year. You cannot use an FHA mortgage loan to purchase an investment property.
However, some exceptions do apply. Borrowers can have more than one FHA loan under approved circumstances. These circumstances include a change in family size or a change in employment that requires the buyer to relocate.