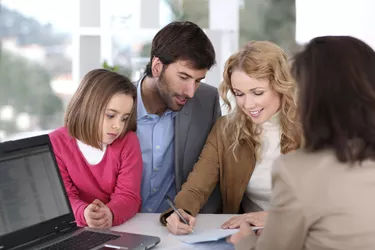 For some, it's a challenging time to obtain home financing. Credit standards seem tighter, loan options appear to be more limited and, due to the documentation that's required, loan applicants are forced to commit a lot of time to the loan application process.
While some aspects of the loan process paperwork, such as the applicant's projected salary, are pretty clear cut, reporting other information, including assets and liabilities for mortgage loans, is a bit more complicated.
Mortgage Application Process
Today, it's likely that you and your lender will go over all the loan documents by phone and during a video conference before you sign anything, digital or otherwise. For instance, once you gather the needed information, your mortgage lender will check your most recent pay stubs and ask you about the possibility of any layoffs or pay cuts in your company or industry.
Due to the state of the 2020 and 2021 economy and work environment, you can expect your lender to impose stringent document requirements. And, tighter credit standards can mean fewer loan options for you, the homebuyer.
What's more, in a time of low mortgage rates and a large number of homeowners who can't pay their mortgage payments, loan officers may lack the time to dig deep to come up with novel credit options for those who need them. So, it's critical that you check and recheck your paperwork before you submit it to a lender for review.
Some lenders are convinced that one borrower is in better financial shape than another if the former has more cash in the bank than does the latter. To those lenders, cash may be more important than a potential homebuyer's credit score.
Loan underwriting is based on risk and it's less risky to lend to an applicant with the cash to deal with one or two unexpected crises than to someone else who lacks the cash but who has a high credit score.
During a mortgage pre-approval process, you'll provide information regarding your income, assets and liabilities for mortgage loans to show you have the cash needed to both buy a house and continue to meet your existing financial obligations. Your lender or mortgage provider verifies this information, then provides a loan pre-approval.
Typically, a pre-approval is valid for 90 to 120 days. In a challenging economic environment, it's likely the lender will review assets and liabilities on mortgage applications at least one time subsequent to the pre-approval before issuing a final loan approval.
Secondary Application Review
During subsequent reviews, a lender reviews the home's purchase contract and updates and confirms that your financial situation is unchanged. In addition, the lender reviews the property value, its condition and the related chain of title to avoid possible bumps down the road.
Borrower's Assets and Liabilities
While your income is important, lenders also look at assets and liabilities on mortgage applications, which can influence your net worth and your debt-to-income ratio.
A lender will review your credit score, total debt, total income and your net worth, the latter of which is your assets minus your debts. Your net assets will serve as a source of your down payment, closing costs and monthly mortgage payments.
A major determinant in whether you qualify for a loan is your debt-to-income ratio, which relates the minimum payments for your recurring bills to your gross monthly income. The more volatile the economy, the lower the acceptable debt-to-income ratio.
Mortgage Applicant Assets
Your assets include cash and cash equivalents – such as certificates of deposit (CDs) and real or tangible property, including property, jewels and artwork – that can be converted to cash. Also included are nonphysical assets, such as retirement accounts, stocks and bonds. Other assets you document on your mortgage application include real estate and antiques.
Homebuyer Liabilities on Mortgage Application
Lenders will review your liabilities for mortgage loans, including credit card balances, installment loans – such as student, car and boat loans – as well as alimony and child support payments. You must report the account number, monthly payment, the remaining duration of each liability and each account's unpaid balance.