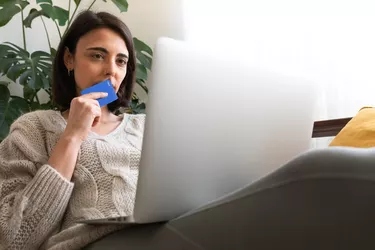 According to Experian, the average American had an average total debt balance of ‌$96,371‌ in 2021. If you're also struggling with debt, facing an already tighter budget due to rising prices and interest rates can make it harder to pay beyond the minimum and ultimately escape. Getting out of the debt trap takes commitment and planning so you know exactly which debts to target first, how to cut down on interest and how to budget for your debt payoff goals. Try these hacks to make the process less overwhelming.
To begin a plan for debt payoff, you'll need to list all your debts to know where you stand. A debt reduction spreadsheet works great for this since it will have spaces to list your debts by name, amount, interest rate and minimum payment. In addition, you can sort your debts by amount and use a graph to show each debt compared to the total. You can access your online accounts, contact your creditors or look at recent statements for the necessary debt details.
Pick Your First Target Wisely
To get off to a simple start, use your debt inventory to pick the first debt you want to pay off. The Office of Financial Readiness suggests you choose the one that's either the smallest or has the highest interest charge. Starting small helps with avoiding frustration and ultimately giving up, while tackling high interest rates means you'll minimize the total cost. After you pay off the target debt, you could use the same strategy to pick your next focus.
Minimize Interest and Fees
High interest charges especially make it harder to pay off debt since only part of your payments go to the principal. Therefore, it's worth looking for ways to cut your interest rates, especially if you have credit cards. The Consumer Financial Protection Bureau recommends options like taking advantage of ‌zero percent‌ balance transfer options, paying in full within the grace period and paying beyond the minimum.
You can also try contacting creditors about negotiating a lower rate. Another option is to consider refinancing options for debts like mortgages and car loans, but you'll want to make sure any fees render the interest savings worthless. In addition, always make sure to avoid defaulted payments since this can both lead to fees and penalty interest rates; automatic payment arrangements help with this.
Seek Additional Money Sources
Your first stop for debt repayment funds should be extra cash you already have in your budget. But if you want faster progress paying off debt or already have a very strained budget, it's worth considering side income options that fit your interests. For example, you might do freelance work related to a hobby, drive for a rideshare service on the weekends, sell unwanted items or rent out a room. Bank of America also advises you to use windfalls, such as holiday bonuses, tax refunds or gifts, toward debt repayment.
Strategically Budget Your Money
Whether you use an app or make one by hand, a budget is essential for monitoring your spending habits and allocating your money to both your everyday expenses and debt payoff. North Dakota State University recommends a simple yet effective strategy called the 50/30/20 budget. This means you'd put half your monthly income toward basic needs, ‌30 percent‌ toward wants and ‌20 percent‌ toward your debt payoff and savings.
It's ideal to go further to find ways to cut your essential expenses and save on wants so you can put more than 20 percent toward getting out of debt. This might include negotiating monthly service costs, getting rid of unused subscriptions, buying used items, packing a lunch from home, using coupons and reducing your utility usage. Of course, if you can add new income sources too, this makes it even easier to allocate more toward debt payoff.
Consider Professional Credit Counseling
If you need some extra help, you might seek one-on-one credit counseling services through a local organization such as a school, financial institution or nonprofit. These can be useful for learning how to properly budget, raise your credit score and pay off debt. The services may even be free or at a low cost if you shop around.
The Federal Trade Commission advises that you thoroughly research any service and avoid those that have bad reviews, aren't licensed or use unqualified counselors. You'll also want to avoid scams that charge you a large amount of money to supposedly negotiate with creditors to eliminate your debt.