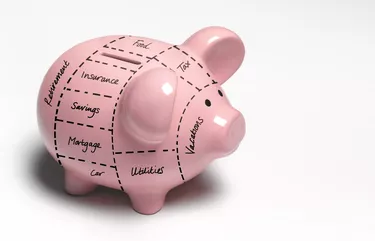 The Consumer Financial Protection Bureau recommends a budget for anyone who wants better control over their personal finances and improved chances of meeting financial goals. While many budgeting methods exist, the 50-20-30 budget is popular since it's both simple and flexible enough for different spending needs. This method works by allocating half of your monthly income to essential expenses and reserving the rest for your wants and financial goals. Here's how you can use it and which advantages and disadvantages this financial planning tool offers.
Basics of a 50-20-30 Budget
The 50-20-30 budget takes into account that, while you have essential monthly expenses, you also will want to save money for a goal like an emergency fund or retirement, as well as buy nonessentials that you enjoy. North Dakota State University says the rule of thumb is to allocate half of your post-tax income toward your needs (including common living expenses); ​20 percent​ toward savings, debt payments and investing; and ​30 percent​ toward your wants.
To understand what this kind of budget might look like for you, take a look at what could go in each of these budget categories:
​Needs (needed for survival)​: Rent/mortgage payment, utilities, groceries, fuel, various insurance plans (home and health insurance), daycare expenses, medical bills and the minimum payments for other certain debts (such as your car loan and student loan)

​Saving/investing/debt (for future plans)​: Emergency fund, savings account for a house down payment or education savings, IRA contributions, credit card debt payments and extra debt repayment and money toward other investments
​Wants (not essential)​: Subscriptions like Netflix, restaurants, entertainment, clothing, hobby-related costs, gadgets, gym membership and vacations
When looking at 50-20-30 budget examples, you might find the items allocated to the categories can differ slightly, especially regarding debt payments. The main point will still be to focus on covering essential expenses first and, if needed, tailoring the budget carefully to your financial situation.
This method works by allocating half of your monthly income to essential expenses and reserving the rest for your wants and financial goals.
Using This Budgeting Method
To see an example, consider that your monthly take-home pay is ​$3,000​. Therefore, you'd want to allocate ​$1,500​ to needs, ​$600​ to savings and ​$900​ to your wants. You'd then look at past receipts, banking transactions and other documentation to determine your typical monthly expenses. You can find 50-20-30 personal budget templates and spreadsheets online so you can easily plug in your income and place your expenses in the three categories.
If you find that expenses in one category exceed the target percentage, that's a good sign to assess whether the expense is essential or could be reduced. The Massachusetts Institute of Technology suggests focusing on cutting costs in the wants category since it's the most flexible. There's also the option of trying to increase your income to increase your allocation to each category.
For the savings/investment/debt repayment section, you'll also need to think about your goals. For example, maybe you want to put money in a bank account for your upcoming wedding or choose investments for your retirement savings. On the other hand, you might prefer to put more toward your loan debt to improve your credit score.
Is the 50-20-30 Budgeting Rule Effective?
If your expenses fit well into the three categories and you track your budget closely, using the 50-20-30 budgeting rule can be a simple way to get started managing your finances. It also helps that there's some flexibility to account for your financial situation, as long as you ensure that your essential costs are prioritized and that you can put money toward future goals.
However, the category allocations may not suit everybody. For example, in times of rising housing costs and high gas and food prices, you might struggle to allocate just half your post-tax income to all your needs. In that case, you'd need to compensate with less money for your wants and savings goals or find a way to boost your income.
The Teachers Insurance and Annuity Association mentions it can be tricky differentiating wants and needs, so the budget may be less effective in cutting unnecessary costs. There's also the risk that the 20 percent allocation to savings won't be enough for your retirement, emergency savings or other important goals. Therefore, you might decide to use this tool more as a general way to track your essential versus discretionary spending and monitor your cash outflows.