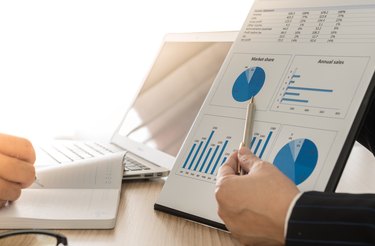 Investing is the process of using your money to try and make more money by committing it to some specific endeavour.
Types
There are a lot of different types of investments that an investor to put their money into. An investor could purchase a real asset such as residential or commercial real estate or collectibles or they could buy securities or financial assets such as bonds and company shares on the market. All of these investments are vulnerable to the vagaries of the market and can rise or fall in value.
Function
You can invest your money directly, by researching the markets, analysing valuations and making your own decisions on what to put money into. Many people, however, use intermediaries instead, letting the bank invest their money or joining investment clubs. The intermediary invests the money given to them by everyone involved in the scheme and then each individual shares in the profits and loss. This method gives the investor the benefit of professional advice.
Advantages
Investing is the process of making your money work for you, instead of simply sitting safely in the back, and it is increasingly a necessity of modern life. It is frequently no longer possible for an individual to work in one job all their life and retire on their pension. People move from job to job, or from career to career, and due to government cutbacks the responsibility for providing for their retirement falls increasingly on the individual. By investing your money wisely you can make a profit that you can then re-invest or put aside as a nest-egg. A good return on an investment can maximise earning potential.
Disadvantages
The major disadvantage of investing is that it is always possible to lose money on whatever investment you make. If you invest in a rare collectible, the value of it can rise or fall depending on its popularity and its availability on the market. Stock prices fluctuate based on everything from how the competition is doing to public confidence in the market. 2008 demonstrated how even house prices, traditionally the most secure investment, are not a guaranteed return.
Warning
An investment shouldn't be a gamble. The investor should research the market where they are investing thoroughly before they ever decide to commit their money. Although there is always a risk that the vagaries of the market will result in the investor losing money, they should always have a reasonable expectation that they will make a profit when they make the investment.