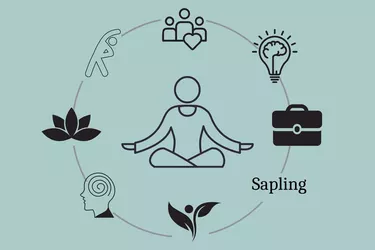 Workday wellness isn't anything new, but the means of achieving it tend to morph depending on the work environment, home life, physical health, financial wellness and the relationships between all of these factors. Incorporate bite-sized habits into your routine to achieve an impact that doesn't require a full lifestyle overhaul.
Why a Daily Routine Pays Off
Designing a schedule helps you build the boundaries between work and home life. If you are one of the estimated 50 percent of U.S. workers doing some remote work, the separation is crucial. Wherever you work, breaking up the day is critical for improving focus and reducing stress. As UC Berkeley Science writer Christine Carter put it, if you don't control your schedule, it can feel like your schedule is controlling you.
Even Outlook, Microsoft Office's popular email client, incorporates the Viva Insights feature that allows you to schedule focus time, breaks and mindfulness time. Following a regular routine helps to make room for a healthier work-life balance. Northwestern Medicine notes that routines decrease stress, help sleep, boost health and enhance self-esteem.
Brain-Boosting Microbreaks
Above and beyond the standard lunch period and short breaks, try putting brain-focused microbreaks into your workday. A University of Melbourne study found that even gazing at relaxing scenery for 40-second microbreaks noticeably increased participants' attention.
Other studies find increased brain activity, lower heart rates and fewer signs of fatigue in workers who take short, restorative breaks away from a repetitive or cognitively complex task.
Breathe, Move and Stretch
In addition to microbreaks for your brain, take activity breaks for your body. Whether you work at home, in an office or in a physically active job, you need time away from what you do to move your body in a different way.
For sedentary jobs, this may be just getting up and walking around. For jobs that are already active, it's key to break from repetitive motions and stretch those muscles and joints you are taxing all day long. For heart health, the American Heart Association recommends 150 minutes per week of moderate aerobic activity. To help put that into perspective, the typical, five-day work week is about 2,400 minutes. You can do it.
Just about everyone can benefit from a coffee-break-sized dose of yoga or tai chi. If you don't have a space where you feel comfortable getting up and stretching, take a walk and practice deep breathing as you boost your step count. Oxygenating the blood invigorates your brain, heart and all of your other muscles.
Always check with your doctor about which activities (and how much) are right for you. Then, go for it.
Keeping your body well-fed and hydrated is a no-brainer for wellness. If you don't have time to make elaborate snacks or if pricey protein bars aren't in your budget, you don't have to give up on good workplace nutrition.
Water is all you need for hydration, and you can always freshen it up with a slice of fruit or a dash of juice to make things more interesting. Depending on your preferences and diet, find quick, no-nonsense snacks you can keep in your drawer, fridge or lunch bag: fruit, nuts, cheese cubes, sliced veggies and other low-effort, bite-sized treats can fit the bill.
Whatever you do, don't go through the workday without eating and drinking enough. Feed your body, feed your brain and protect yourself against fatigue and burnout.
Even if the only coworkers you see are via a computer screen, take time each week for check-ins with colleagues. Keeping on schedule with collaborative projects and keeping up communication go hand-in-hand. If you have a good buddy in the workplace, make the time to walk together, eat together or sit in a shared space to work, if you're both comfortable with that.
The separation between work and home doesn't mean removing all personal touches from the workplace. Behavioral health experts have long stressed the importance of social interaction in our overall wellness and mental health.
You don't have to go into the office for a full eight hours to get the benefit of socialization. Mayo Clinic psychologist Dr. Craig Sawchuk says that even quick check-ins to catch up with others can heighten our cognitive skills and boost our happiness and well-being.
Be Aware and Reduce Stress
Know what's happening in your workplace. Depending on the size of your organization, developing this awareness could happen in different ways. When scheduling time for the week, book time to check the organization's portal, news page or social media feed.
When you are well-informed and up-to-date, you are less likely to get blindsided or miss something important – two things that can be a major source of stress in the workplace and lead to the kind of burnout that inspires quiet quitting. If you are aware of deadlines and upcoming events, you free up space in your brain and body where stress and dread like to settle in.
Being on top of your game, scheduling your time and taking care of your body and mind will go a long way toward wellness in whatever workplace in which you spend your day.