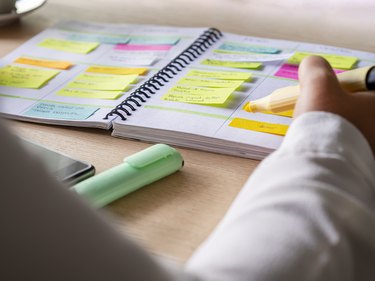 Working from home is on the rise, with ​45 percent​ of employees working remotely either part- or full-time. But the shift from commuting to an office every day to working in your own home can come with a few challenges. It's important to set up a firm work schedule and home schedule to make sure you're achieving the work-life balance you need.
Set and Communicate Work Hours
If your employer mandates specific work hours, make sure you communicate those hours to your family members, neighbors and friends. There's nothing wrong with taking a personal call or meeting a friend for lunch, just as you'd do if you worked in an office, but it's important to set boundaries so that others learn to respect your work time.
It's also important to hold yourself accountable to your workday. Make sure you're at your desk at your designated start time and check in on any communication channels. Start checking email, look in on your team Slack and catch up on everything you missed overnight.
Set a Dedicated Workspace
Setting part of your home aside as your office can be a big help in erecting that work-personal boundary. If you're self-employed or run your own business, you can even claim a home office deduction. This can reduce taxable income for self-employed professionals, but it's a benefit that isn't available to work-from-home W-2 employees.
Although remote work eliminates the frustrating, time-consuming daily commute, it also removes a barrier between work and home. Think of your commute as a separate event from your morning and evening routine. Make your coffee and take it to your work environment, putting an invisible boundary between your work and home life.
When you aren't going to an office every day, it can be tempting to skip the morning routine. But even if you don't have a Zoom meeting, it can benefit you to get up and get ready. Take a shower, fix your hair and get dressed, just as you would if you were planning to sit at a desk surrounded by coworkers all day.
When the day is over, switch into your comfortable clothes, just as you would after a commute home. Just as dressing up can help you shift into work mode, going casual can at least make you feel that separation.
With some careful time management strategies, you can remain productive during work hours while also relaxing when you're off the clock.
Separating Work and Personal Communications
The biggest danger in working from home is that you can be tempted to keep working when you're technically off the clock. An email or call comes in and you take time to respond, arguing to yourself it will just take a few minutes. But remote workers soon find that they end up working well into the evening this way.
But the same applies to your work hours. Unless you have arrangements to work extra time, don't run errands or play on social media while you're supposed to be working. That said, some do choose to work a little later or start work a little earlier in exchange for taking a half-hour or so off for school pickups or a post office run.
Children and Working from Home
If you live alone, with a roommate or with a spouse, you have plenty of challenges while working from home. But if you add children to the equation, things get complicated. A day of work can easily be derailed by a child emergency. During the pandemic many families were challenged to balance kids being home during the workweek, but as children returned to school, work-at-home professionals still found their children were home in the afternoon and at night.
If possible, consider investing in childcare just as you did before telecommuting. With older children, you may be able to have them at home but require them to stay in their own space until your workday is through. This could be a time they focus on their schoolwork, making it a win for all parties.
Remote employees should make sure they're respecting their own work schedule without sacrificing personal time. With some careful time management strategies, you can remain productive during work hours while also relaxing when you're off the clock.