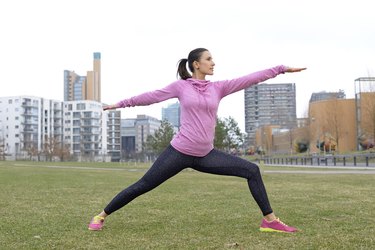 It's a new year and if you're like many people, your thoughts have turned to creating habits that help you become more organized and healthier. One of those new habits could be taking on a new exercise program. Tai chi is an ancient practice, based on martial arts, that can bring both physical and emotional benefits.
Although the exact origin of tai chi has been debated, it is known that it began in China. Tai chi's original use as a Chinese martial art was self-defense, but over the years, it's gradually become popular as an exercise with aerobic benefits that also helps with stress management.
Tai chi has five major schools of practice, but the most common form of tai chi is Yang-style, best known for its slow, gentle movements, each named for animals. The goal of this type of tai chi is to enhance the mind-body connection.
Getting Started With Tai Chi
Chances are, you can find tai chi classes in your area, but you don't need an in-person class to learn the ancient martial art. There are plenty of online tai chi classes for all fitness levels, including courses for beginners, that have become an ideal solution during Covid-19 outbreaks. You can also find books that help you fully understand the various styles of tai chi while also walking you through the steps.
Once you've set up a plan for your new tai chi exercise routine, all you need is a willingness to learn. Like yoga, you might want to grab a mat, but it isn't required. Loose, comfortable clothing that moves with you is a must, though.
Tai chi is a low-impact exercise, making it ideal for both younger and older adults. But the health benefits of tai chi aren't limited to physical fitness. You can enjoy some physical and mental health benefits with each session.
​Muscle strength​: With tai chi, your body is used as resistance rather than weights or equipment. The unsupported, slow movements gradually help strengthen your muscles.
​Balance and coordination​: Tai chi helps with something called proprioception, which is the ability to see where your body exists in a space. This improves your balance, which can, in turn, lower your risk of falls.
​Stress reduction​: The slow, methodical movements of tai chi can have a relaxing effect. But many tai chi instructors will also encourage deep breathing and mindfulness, both of which are proven stress reducers.
​Lowered blood pressure​: In studies, tai chi has shown effectiveness in lowering blood pressure in patients with hypertension. Since high blood pressure can damage the arteries and increase your risk of heart disease and stroke, it's a great way to improve your physical health.
Managing Stress With Tai Chi
The best thing about tai chi is that it can improve your physical and mental health, boosting your overall quality of life. But as you grow more experienced, you can start to work tai chi into your daily life. You can sneak away to the bathroom at work or close the door of your office and enjoy a quick ​five-minute​ session.
You don't have to practice the flowing movements to get stress management benefits. The breathing and mindfulness techniques can kick in wherever you are. If you're having a particularly stressful day, simply take a few minutes to relax and breathe, and you'll find your body automatically responding.
Tai chi is a form of exercise that not only helps you get in shape physically, but it also can boost your well-being. It's important to focus on deep breathing and being present in the moment to ensure that you're getting the true stress management benefits of the practice. With time, you'll find that the skills you've learned in tai chi will carry over into your everyday life.