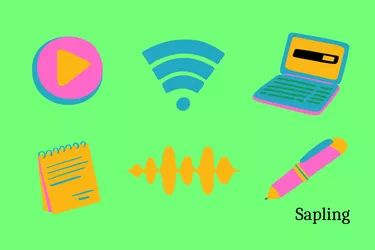 Side gig, side hustle, moonlighting – whatever you want to call it, 36 percent of American workers are independent workers, according to a recent McKinsey & Company survey. Persistent inflation, a slumping stock market and economic uncertainty have many economists and researchers predicting the strong potential for a recession to begin. If you're thinking of bringing in extra income, you may wonder which side gigs fare best during an economic downturn.
Creative Services Freelance Work
According to a 2022 Upwork article about the highest-paying freelance work, nearly half the list is in creative positions. There is a reason that Fiverr processed over 50 million transactions between creative gig workers and the people who need their skills. Creative skills remain in demand and potential freelance work includes the following positions:
Copywriting
Editing
Web design
Web development
Photographer
Videographer
Video editing
SEO specialist
Graphic design
Marketing manager
Social media marketer
You can find creative freelance work on platforms like Upwork, Fiverr, Behance, or through a job search on LinkedIn or Indeed Gigs. Hourly rates vary by service, project and your level of experience. If you have creative skills, this is an easy gig to get started. If you are looking to enter one of these fields, in addition to getting training, picking up freelance work is a great way to build a portfolio.
Education: Tutoring and Test Preparation
School-aged kids and young adults are in school regardless of the economy. And after two challenging years, students need your help.
School districts, community colleges, libraries and private companies hire tutors – or you could work for yourself if you have the education and training. Tutors can expect to bring in anywhere from $20 to $75 hourly, depending on the subject, level and employer.
If you are new to tutoring, it might be a good idea to work for and get trained by a tutoring service and venture out on your own once you've learned the trade.
Delivery Service: Food, Retail and Transportation
During difficult economic times, you can generally expect entertainment spending to decrease. But since the onset of the COVID pandemic, more Americans have become accustomed to ordering online more often.
Food delivery alone has tripled since 2017, becoming a $150 billion market, according to McKinsey & Company. E-commerce sales are an increasing percentage of the overall economy, with the U.S. Department of Commerce reporting a rise to 14.5 percent of $1,778.6 billion in total retail sales.
In times of hardship, consumers may cut back on luxury items, but ordering quick take-out and having online purchases delivered is no longer a luxury in 2022 America.
According to Glassdoor, the median annual salaries for drivers make for a great side gig.
‌Amazon‌: about $40,000
‌DoorDash driver‌: about $40,000
‌Uber drivers‌: more than $47,000
Of course, how much you make will depend on how long you can work and how often.
Caregiving: Pets and People
If any industry is pretty close to recession-proof, it's health care. Regardless of what is happening in the stock market, people need to be taken care of. The Bureau of Labor Statistics (BLS) predicts 25 percent job growth in this sector in the next decade, with an average of over 700,000 positions open each year. While some of these positions pay up to 35 percent less than the median salary of all U.S. workers, the jobs are plentiful.
Dog walking and pet sitting gigs can be found on popular pet-related apps, like Rover, or neighborhood apps, like Nextdoor. There are also plenty of groomers, shelters and boarding businesses that can use a hand. According to Glassdoor, dog walkers might expect anywhere from $15 to $30 hourly. Pet sitters can earn $40 per night or more by taking a pet into their own home or sitting at the pet's home.
Loving Your Side Gig Helps
Whatever you choose to do to earn additional cash, it helps if your side hustle is something you enjoy doing. Especially if you work another full-time job, putting in extra hours can be taxing if it's not something that speaks to you or draws upon something you love to do.