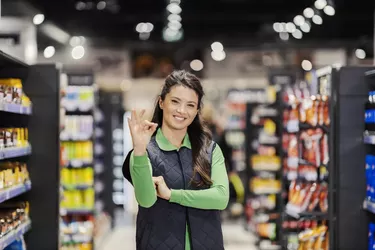 Being a Walmart employee has its perks. If you want to move up within Walmart and are willing to put in the hours and work, you'll find some great opportunities with this retail giant.
Walmart Career Categories
Walmart currently employs ​2.2 million​ workers worldwide, with ​1.6 million​ in the U.S. alone. And while there are many cashiers, sales associates and supervisors in that number, there are growing opportunities within all aspects of Walmart's ​$572.8 billion​ business.
Currently, the Walmart.com careers page has over 49,000 listings. More than 33,000 are for entry-level and store management positions within Walmart retail stores and Sam's Club warehouse stores. The remaining 16,000 are in a wide range of professional career categories:
Supply chain: drivers and distribution center workers
Healthcare, pharmacy and optical
Technology and cybersecurity
Project and program management
Accounting and finance
Human resources
Asset protection
Real estate and construction
Legal, ethics and compliance
Global investigations and security
Marketing, communications and customer insights
Product management
Maintenance and installation
If that list surprises you, maybe you've only been thinking of Walmart as a place to get a part-time sales associate job during the holidays. The company does have plenty of those. Walmart hired ​150,000​ employees during the 2021 holiday season alone.
But think about what it takes to support a business with 2.2 billion employees and over ​250 million customers weekly​ between e-commerce and brick-and-mortar stores. You'll begin to see the career opportunities within.
If you get a job at Walmart and work your way up within the retail store, your salary advances along with your career.
Tech Career Boom at Walmart
There are plenty of skilled jobs at Walmart, not just in tech.
If you have limited work experience or are a first-time job seeker looking to grow with a company, there are many part-time and full-time positions inside Walmart stores.
Walmart reports that 75 percent of store management personnel began as hourly associates. The company promotes an average of 500 associates daily, advancing workers to positions within the retail stores or with corporate.
Walmart promotes its "low barriers" to job opportunities and pathways within the company. In 2021, the company raised hourly wages for more than one million workers, reporting an average of $16.40 per hour in March 2021, well over the minimum wage in most states. The company also offers health insurance options for part-time and full-time employees.
If you get a job at Walmart and work your way up within the retail store, your salary advances along with your career. According to Glassdoor, Walmart assistant managers bring home about $55,000 to $60,000 annually, while Walmart store managers average $100,000 to $120,000.
Walmart Jobs and Free Education
In July 2021, Walmart announced an expansion of their Live Better U (LBU) education benefit for part-time and full-time associates. The company covers 100 percent of college tuition and books.
The LBU program includes programming from several academic partners, covering programs of study ranging from high school completion certificates and English language acquisition to associates' degrees, bachelor's degrees and professional certificates.
The company plans to invest $1 billion over the next five years to advance training and development for its employees.
Personal Advancement at Walmart
Whether you begin as an overnight stocker, sales associate or deli stocker, or apply to corporate positions at Walmart, you can be assured of plenty of career opportunities. If your goal is to advance your education for free while working part-time, you can find that with Walmart too.