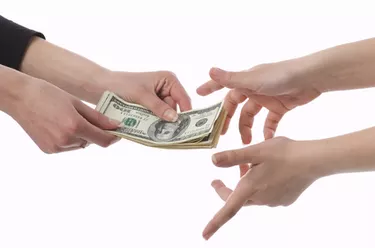 If you're dissatisfied with how much you make at your job, you don't have to stay that way. There are plenty of ways for you to use what you know and turn it into extra money every month. It's easy and fulfilling to earn an extra $300 a month or more without drastically changing your lifestyle. The key to earning extra money is not begging for a raise or selling your organs; it is patience, dedication and time.
Step 1
Sell extra belongings or unused items for cash to generate $300 or more per month. You can sell nearly anything online through eBay, Craigslist, Amazon and similar websites. Host a monthly garage sale with reasonable prices for quality items to rake in extra cash. Vintage clothing shops often pay cash for stylish clothes in good condition.
Step 2
Develop your talents to make money in your neighborhood. Depending on your skill set, you can turn your abilities into a business to generate extra cash every month. Painting, drawing, singing, baking and crafts are just a few ways to make money without getting another job. Offer your services on websites, local bulletin boards or through social networking sites. Bring your wares to local farmer's markets or craft shows to get your name out there.
Step 3
Make money online by creating content for websites like Demand Studios, Textbroker, Brighthub or similar websites that pay for blog, article, video and editorial content. You can work as much as you want upon acceptance and make $300 or more every month.
Step 4
Find a part time job that won't conflict with your regular work schedule. Look for bartender, waitress or other weekend food service jobs where you can earn tips and hourly wages. Coaching and refereeing for local sports leagues can offer wages for weekend work.
Step 5
Reduce your spending and cut back on luxury items to save more money. Use coupons, store sales and other deals to stock up on necessities. Eat in as often as possible to avoid high-priced dinners at restaurants. Shop around at different stores to make sure you are getting the most for your money.