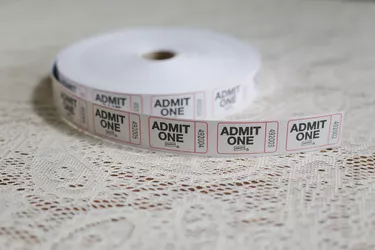 Offering door prizes are an easy way to build excitement at any party or charity event. Simply hand out raffle tickets or designate numbers for each of the place cards on the tables. Draw winning tickets or numbers and hand out door prizes to the lucky winners. Door prizes don't have to be expensive. You can select from a wide array of gifts that won't break the bank, such as the party decorations as door prizes. For example, flower arrangements or table centerpieces could become gifts the winners can take home.
Food
For a charity event, ask local restaurants to donate gift certificates or discounts. Some restaurants sell discounted gift certificates; order these online, in person or through a third-party service. Baked goods are a much-appreciated but cheap prize idea. If a charity volunteer or party guest is skilled in baking, ask him to make cupcakes, brownies or a pie. Stretch out the winnings for a month or even a year, offering the winner a pie every month or week, depending on your agreement with the baker and your budget. If you have access to a caterer, offer his services for a night. The caterer could come to the winner's house and cook her favorite meal, letting the winner have access to her own personal chef for the evening.
Sports-Themed Gifts
Give away general-admission tickets to a local sporting event, or give sports memorabilia such as the local team hat or a signed baseball bat or football. Depending on your access to the players, the items can be signed individually or by the entire team. To make gifts seem more extravagant, combine many small items into a gift basket. Include a few packs of sports cards, packs of bubble gum and key chains with the local sports team's logo.
Movie-Themed Gifts
Give out gift certificates to a movie theater that prize winners can use toward movie tickets or at the concession stand. Or offer a few months of an online movie service. You could create a gift basket as well. Include an inexpensive movie, a pack of microwave popcorn and an pair of 3-D glasses. Add a movie poster, which you sometimes can get for free or very cheap from a local movie theater, depending on its policy.
Office Supplies
Inexpensive pen sets often are used as door prizes. You also may offer calendars or desk organizers. Ask a copy store to donate free copy services or discounted business cards. Remind the store that when the prize is announced, it serves as advertising.