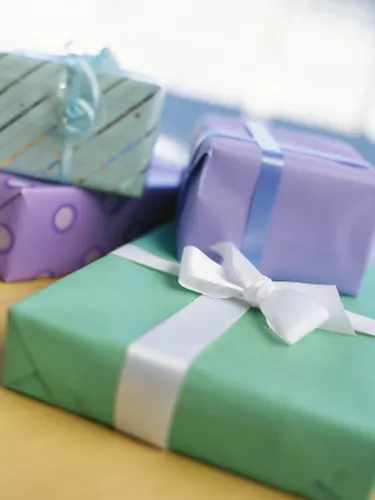 Whether your celebrated occasion is holiday based or one of personal sentiment, offering prizes as a part of the event will make you an outstanding host. A resourceful way to prepare for a night of gift giving is to start finding useful gifts weeks before your scheduled gathering. There are surprisingly inexpensive prizes to fit any occasion.
Mother's Day Prizes
In 1908 Anna Jarvis began the observance of the first Mother's Day. She intended for the occasion to be a time when people would express appreciation to their mother. In keeping with its original purpose, when you decide to host a Mother's Day celebration, consider door prizes that your mother and those invited would really use. Items such as bathroom paper, hand-soaps, dish washing liquid, laundry detergent and paper towels might seem like unconventional gifts, but when purchased early, you can supply guests with weeks worth of beneficial household products without spending over $100.
Bachelorette Parties
During the 1960s the time-honored tradition of bachelor parties sparked the interest of women, and soon women held their own version called bachelorette parties. When you are asked to host one of these traditional gatherings, add an extra element of surprise by offering both the guest and bride-to-be opportunities to win women-only gifts. Fingernail polish, specialty shampoos and conditioners, and fragranced body washes are all prizes that you can find on sale year round in various clearance bins. Several stores offer clearance deals that may reduce priced items by 75 to 90 percent.
Child Birthday Parties
Party favors and prizes go hand-in-hand with children's birthday parties like ice cream and cake. Many parents, however, are trying to find a way to still honor this custom without spending more than $10 per child. A budget friendly idea is to offer birthday guests the chance to win prizes that are snack based. Small bags of chips, miniature candy bars and flavorful pieces of bubblegum are treats that children enjoy year round. Weeks before the party, go to your favorite stores and shop as if you were preparing for a small trick-or-treat group. For around a dollar a child, you can load the little party guests with prizes that they can really enjoy.
Christmas Parties
Christmas parties are festive get-togethers where traditional, home-cooked dishes, Christmas music and laughing children abound. This are ideal opportunities to lure adults into fun games that yield winning prizes. In order to find budget friendly rewards that aren't cheap goods, pay attention to store deals months before your Christmas dinner. Several stores give away gas gift cards to customers who purchase a certain quantity of items that they would ordinarily purchase anyway. You will also find reasonable deals on household articles such as Tupperware, pillows and scented candles.