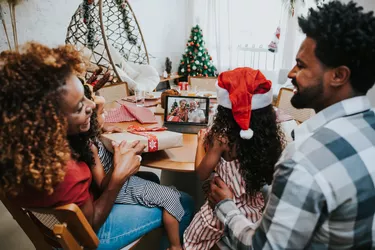 We may not be facing another holiday season on complete COVID lockdown, but life has certainly changed in the last year or so. Many people continue to work from home, and some family and friends might not feel comfortable with traveling just yet. Maybe you're cringing a little because last year's virtual holiday gathering was such a disaster. But you can ace it this year and make it special with the right approach and a little advanced planning.
"Virtual" doesn't translate to "It's not really happening." Send out official invitations or e-vites, just as you would for a brick-and-mortar party. Dig out your holiday decorations and set a theme. Have a few conversation topics at the ready to get things started. This can be even more important with a virtual gathering where people tend to think about what they're saying first rather than just opening their mouths.
Set some ground rules. Are pets allowed? What about toddlers? Both have the potential for wrecking virtual meetings and gatherings, no matter how much you love them. And don't forget to clean. Don't assume that your guests won't notice that dust bunny crouching over there in the back corner simply because they're not physically present in the room.
Set up breakout rooms apart from the main Zoom gathering if you're expecting a large crowd that can't all be accommodated on the same screen. Try to do it so guests can feel free to move between rooms.
Yes, you can still make it an ugly sweater party, even if it's online. Consider awarding prizes for the very worst holiday attire to be decided by digital voting. Prizes can be sent out after the event, or they can be digital. Many sites let folks access their gift cards online. You can set them up in advance, then give the winners the appropriate access information.
A "come as you are" dress code can provide some interesting conversation starters, too.
Ask each guest to "bring" their signature holiday fare. It might be an awesome appetizer, a dinner entrée or a bag of chips with some dip. This should be organized well ahead of time so you have the bandwidth to avoid duplicates, especially with larger gatherings. This is another prime opportunity for voting and prizes for the best ideas … or the worst.
Here's another thought if your pockets are deep enough, such as if your company is footing the party bill: Consider having take-out favorites delivered to each of your guests' homes.
4. Singing, Dancing and Entertainment
This is ​not​ just another meeting, but it could begin to feel like one without entertainment. Turn up the music and have a dance competition. Hint: This idea might be more successful if your guests are imbibing. Again, you might want to have bottles of wine or spirits delivered to their homes in advance, depending on your budget and the size of your gathering.
And how about a few rounds of "name that tune" since you already have the music going?
5. What About Gift-Giving?
Gifts might not be as much of an issue with a workplace party, but they could be much appreciated if you're hosting a long-distance, family get-together. In either case, you can set up a gift swap type of exchange with enough advanced planning. Your guests can have their gifts delivered to their assigned recipient ahead of time so they can be opened at the party.
6. Capture It for Posterity
We're talking technology here, so make the best use of it. Record your event so everyone can laugh or cover their faces with their hands at a later date. Recording can also be a nice touch for those who can't make it to your party.