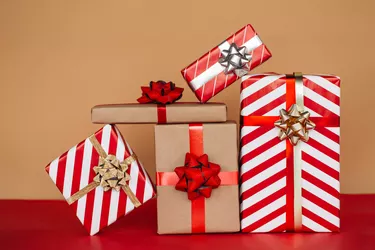 Holiday time can be stressful, expensive, busy and overwhelming. It's easy to overdo it. In another year of a global pandemic, with supply chain disruptions and mail delays, do-it-yourself presents can be a thoughtful and budget friendly way to save the season. It takes time to create a DIY gift, but with a little planning, you will end up with gifts that are less expensive and more meaningful.
1. Customized Mugs or Glassware
Begin with the style of glass or ceramic piece that fits the present you want to give this special person, such as:
Coffee mug
Wine glass
Shot glasses
Mason jar
Candleholder
The glassware you begin with doesn't have to be a more expensive variety. Grab something at the dollar store, resale shop or even something you have around the house. To design your gift, use any of these finishing touches:
Glass paint
Sharpies
Mod Podge and tissue paper, maps, book pages, glitter or gift wrap
Spray paint
Chalk paint
What you use will depend on the object you are customizing and its intended use. For instance, you don't want to use spray paint on a wine glass, but you can certainly use it on a Mason jar vase. Chalk paint works great on the bottom half of a coffee mug, and glass paint or Sharpies work well on just about anything. Finish off the gift with a handmade card and include a note about washing the item by hand.
This is a do-it-yourself gift that gives twice. It looks great in the jar and is a way to make delicious homemade cookies in a snap. Start with a clean, dry, wide-mouth Mason jar or clear cookie jar large enough to hold your mix. Typical sizes go from a quarter pint up to 1/2 gallon. The typical size you'll need is 1 quart (32 oz).
Measure out the dry ingredients for your favorite cookie recipe. Then, layer them into the jar, making sure you have some contrast between the layers. Seal the jar, give it a festive ribbon, colorful string or a bow, and finish it off with a handmade gift tag that has the full recipe on it.
Personalized coupons are a thoughtful gift and allow you to spend time and have an experience with the person receiving the coupon. Create individual coupons or a whole book. Print them out or make them by hand. The great thing about this gift is that it is fully customizable to fit the personality of the person you love. Some ideas include: cooking a meal, doing household or garden tasks, special outings or self-care treats.
4. Handmade and Personalized Ornament
Clear glass or plastic ornaments are widely available. Most either have a wide opening at the top or open in two halves, so you can put something inside. There are nearly endless ways to make this something that your friends and family will cherish. It's all about what you put inside.
You can go for something personal, like a family photo or special keepsake. Or maybe something purely decorative, like ribbons, glitter or confetti. If you're artistic, you can make a small painting or drawing. Another idea is a special poem or quote.
For this special DIY gift, you can buy an inexpensive photo album or memory book, or you can stitch a few pages of cardstock together. Once you've got your book, fill it up with special mementos and memories related to that person.
These can be keepsakes from a friendship, romantic relationship or family. It works for anyone because you include things specific to that person: photos, movie tickets, poems, book pages, drawings, recipes or anything else that helps you express what you'd like to share.
Giving DIY Gifts Feels Great
It not only feels good to give, but it's also good for us. Cleveland Clinic says that gift-giving is a healthy activity, boosting our self-esteem and lowering our blood pressure. During a global pandemic, this is even more important. What's more, creating the gifts yourself allows you the additional benefits of the power of art and eases the financial strain of the holiday season.
Perhaps most importantly, the special people in your life receive something personal and uniquely made for them. So plan ahead, set aside some creative time and get started!