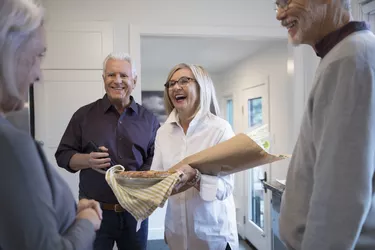 Holidays and other celebrations bring fun and excitement, but they can also deliver a hefty price tag. Whether it's gifts for groups of friends, family or coworkers, the cost of buying gifts for large groups adds up quickly. You don't have empty your wallet, however, to offer a meaningful present to every person on your list.
Gifts From Your Kitchen
Because it offers so many options, food can serve as a wonderful gift for a large group. You can give something homemade or buy an item in bulk at the grocery store. Homemade treats such as cookies and brownies, for instance, will please a crowd and cost little in the way of ingredients. You can also make muffins, granola, jams, truffles, soup mixes or any other variety of goods; add a handwritten label or tag to personalize the gift for each person.
Homemade Spa Products
You can craft small gift ideas like bath oils, body scrubs and other spa items at home with only a few ingredients. Body scrubs, for example, generally require only sea salt or brown sugar and an essential oil such as lavender or eucalyptus. You can make a large batch and divide the product into jars. Bath bombs, bubble bath and dissolving bath salts also make great gifts, as do homemade lotions and soaps.
You can give one individual gift to each recipient or include several sample-size versions of each product you make. However, do not give scented spa goods to those with allergies or other sinus problems.
Framed Photo Gifts
In this digital age where everyone seems to keep photos in their cell phones, framed photos are still thoughtful and inexpensive gifts. You can purchase a picture frame in a dollar store or a department store without spending a lot of money. Make a copy of a picture that is meaningful to the recipient, and you'll score big points for your thoughtfulness.
Personalized Gift Bags
If you would rather buy presents, put together treat bags appropriate for the occasion. Buy a package of small cellophane bags and fill them with candy, bookmarks, pens or any other small gift that befits the recipients. You might include balloons and crayons for children or stress relievers and key chains for coworkers.
Discount warehouses and dollar stores offer plenty of options to buy products in bulk, which generally costs less than buying smaller quantities. You can buy large bags of candy, for example, and divide them among the treat bags.
Cards and Certificates
Instead of traditional gifts, offer a thoughtful card with a handwritten note to each person in the group. You can either buy or make the card, but spend an appropriate amount of time writing a personal note. Do not simply write a generic message in every card.
Gift certificates can also serve as inexpensive gifts. Most businesses, whether a small local store or a national chain, offer gift certificates. Some sell certificates in denominations as low as $5, and you can also make your own. Give each person a certificate for a service you are willing to offer. You can include baby-sitting, cleaning, running errands or any other service the recipients would appreciate.
Combination of Inexpensive Gifts
If there's someone on your list for whom you may want to spend a little more on a gift, you can mix and match some of the ideas above to give a combination gift. Wrap individual gifts and place them inside a larger wrapped box or gift bag. The total cost for your gift can still be kept to a minimum, but the recipient will love opening numerous small gifts.