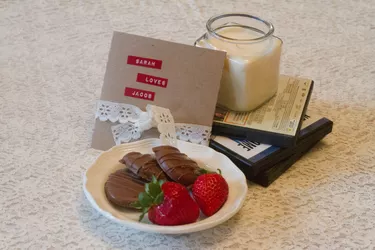 Be creative when thinking of a cheap romantic gift for your boyfriend. The gift should have special meaning to him and be something that he is not likely to forget. A birthday gift does not have to be expensive; remember the saying, "It's not the gift that counts, it's the thought," and find a gift that will have special meaning to your boyfriend.
Food
Food can be a romantic and cheap birthday gift for your boyfriend that he will appreciate. Cook your boyfriend's favorite meal and enjoy it outdoors by candlelight. Bake him a special cake and decorate with a theme matching his favorite sport or hobby. Kidnap your boyfriend for the afternoon and take him to a park, lake or beach and surprise him with a pre-packed picnic lunch. If he has to work on his birthday, you could meet him for lunch with a prepared meal, with a love note hidden in it. Another idea is to create a romantic kit, including a tealight candle, a romantic CD, wine and cheese or chocolate-covered strawberries.
Time
A cheap and romantic gift that your boyfriend is sure to enjoy is your time. You can play his favorite video games with him. Go to a sporting event that you may not necessarily like. Rent his favorite movies and curl up next to him on the couch to watch the movies with dim light and popcorn. Another idea is to make him your king for the day, where his every wish is your command.
Creative
Give your boyfriend a romantic gift of love. Write him a special poem and place it in a decorative picture frame. Create "love coupons" that he can redeem at any time, the coupons can be for things such as a massage, a night out on the town, a night out with the guys with no complaints, a special home-cooked dinner or anything else that he might enjoy. Depending on how advanced your relationship is, you can make the love coupons be as naughty or nice as you want. Make a handmade birthday card for your boyfriend with romantic sayings and pictures of the two of you. Have a deck of cards made, with pictures of you or love notes printed on the backside of the card. Purchase the domain of your boyfriend's name, you may want to add a poem and put it on his home page. Another idea is to buy glow-in-the dark stars and stick them on his roof, spelling out a message such as, "I love you."
Traditional
Give your boyfriend a dozen roses. You can make a CD with songs that have meaning to the two of you, to make it more special, add a verbal message to it by stating your love for him, or recite a love poem. Buy an accessory for his favorite sport or hobby and have a romantic message engraved on it. Buy a chain set, where you wear the heart and give him the "key to your heart." If your relationship is advanced, you may want to give him a key to your apartment with a monogrammed toiletry kit.