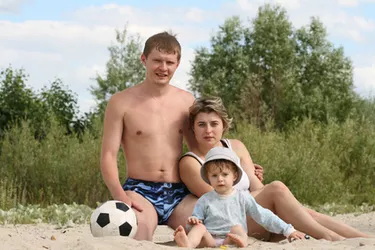 A 16th birthday is an important event in a teenager's life. When you want to plan an event to celebrate this milestone birthday, but do not have the money to go all out, scale down the festivities and focus on fun to have a great day without breaking the bank. Look for activities that are special to the birthday boy or girl, and make an event out of it to make them feel like the focus of the day.
Family Ceremony
If your family is close-knit, turn a 16th birthday into a family tradition and rite of passage. Celebrate a new driver's license with an inaugural ride in the car, followed up by a special meal at home with all of the birthday boy or girl's favorite foods. Ask each family member to prepare a toast for the birthday girl or boy as a special touch, and finish the meal with a cake. Make a show of extending special privilege to the 16-year-old, like an extended curfew or permission to get a job. If you have a family heirloom, the dinner is a great place to pass it on to the child; if you do not have one, create one by giving her one of your prized possessions.
Spa Day
For a girl who is turning 16, set up a spa day for her and a few friends. Turn your home into a spa by planning different treatments. You can do inexpensive facials and hair masks in the bathroom and invite guests to sit on the edge of the tub with their feet in a rejuvenating bath salt mix. Do manicures and pedicures while watching a movie and use moisturizing lotions to soften the skin. Transform your home into a comfortable haven by setting out large cushions and blankets, encouraging guests to wear robes and slippers, and lighting white, scented candles around the room. If you have a friend who is great at massages, bring her in for the party.
Adventure Weekend
If your 16-year-old is interested in the outdoors, plan an adventurous weekend to celebrate his birthday. Take the birthday boy or girl camping, bringing along inexpensive food you can cook over the fire, like hot dogs and s'mores. Plan activities like fishing, hiking, swimming or reading in the sun. Pick a location for the weekend that lends itself well to a variety of activities, and bring along a canoe or kayaks for early morning or evening paddles. Celebrate with a special deluxe birthday s'more, complete with candles.