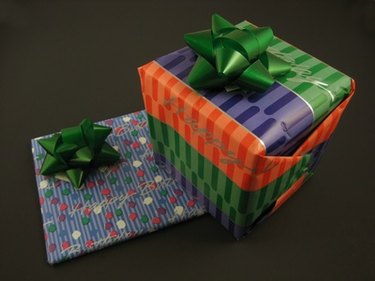 Your child's 14th birthday is a milestone that deserves a fun celebration. Sticking to a budget is important to ensure that the party stays within your means. Consult with your teen to come up with a birthday idea that she will truly enjoy, and remember to keep her likes and interests in mind when planning the event.
Kickball Party
Throw your teen a kickball party for a birthday celebration that is cost-effective and fun. Find a grassy park or baseball field that you can use for free. Many towns and cities make local green spaces available without cost or reservations. Split the guests into two teams, and supply everyone with a blank T-shirt. Instruct the teams to each come up with a team name, and give them decorating materials like puffy paints and permanent markers to personalize their team shirts. Inexpensive items that you can easily find at a discount store, the team shirts can also serve as party favors. Set up the kickball field and let the teams battle it out.
Bring a grill to cook hot dogs, and serve cupcakes for dessert. It's a cheap and easy way to feed the hungry players.
Scavenger Hunt
Plan a scavenger hunt for an inexpensive and silly way to entertain a bunch of teens and celebrate a birthday. Start the hunt at a local downtown area or shopping mall, and split the group into teams. You can have two big teams, teams of two or any other pairing that makes sense for your group. Give each team a list of items to collect and/or tasks to complete. Your list can include things like "get the signature of a security guard" and "collect three free samples." Set a time limit for the teams and have them meet back at a local ice cream parlor afterward to compare lists. Treat the teams to ice cream, and award a small prize to the team that crosses off the most items on the list.
Sleepover
Not only are sleepovers a ton of fun for teens, they're also very inexpensive if you cut out some of the frills. Sleepovers are almost always single-sex, so you'll have fewer guests to host than you would at a coed party. Use your teen's interests as your guide to plan the perfect sleepover event.
Consider hosting a camping sleepover with outdoor tents. Build a small bonfire and supply partygoers with s'mores ingredients and weenies to roast. The guests will enjoy the independence of being away from the house, and you yourself will surely not miss the late-night laughs that usually go along with sleepovers.
A movie marathon party is another fun idea. Instruct guests to bring their favorite flick to watch, or have your teen help you pick out some new releases. Start the party after dinnertime to avoid having to serve a full meal, but supply the teens with lots of popcorn and candy treats. Have everyone come in pj's for comfort.