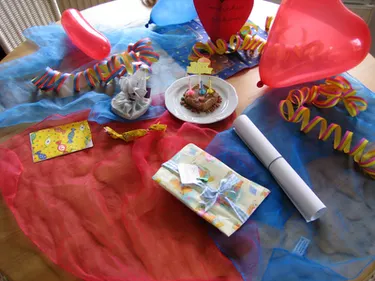 A person's 40th birthday is one of those landmark birthdays to celebrate with a party. However, planning and throwing the perfect birthday party can get expensive when you factor in venue, decorations, food and beverages. Luckily, there are many types of parties that don't require you to spend money upfront. With a little creativity and help from those attending, you can throw a memorable 40th birthday party for that special person without breaking the bank.
Surprise Party
Surprise parties work well for landmark birthdays like a 40th birthday. The key to making this party cheap is to hold it at a restaurant. When you invite people, make sure they understand that it's a surprise party and that you (as the host) will provide appetizers or a round of drinks, but they are responsible for their own meals. Of course, you'll want to cover the meal for the birthday boy or girl, but it's possible that one of the attendees may pay for the meal as a gift.
Board Game Party
Board games are popular again, especially with adults. Consider throwing a board-game-themed birthday party for the 40-year-old in your life. This type of party is good for budget-conscious hosts because all you'll need to provide is the venue (someone's home) and some snacks (think soda, chips and punch). From there, ask attendees to bring along any of their favorite board games and other refreshments.
During the party, separate the games onto different tables, depending on how many people are at the party. Divide into different teams, and take turns playing the games. Or, create teams and make a tournament out of one of the games. No matter how you decide to play, a board game party is sure to please everyone at your party.
Throwback Party
A 40-year-old has experienced many different fashions during his life. Consider throwing a party that celebrates the fashions of the year the birthday boy was born. To organize, invite attendees to the party and tell them to dress in their best retro gear.
To make the party extra inexpensive, ask the attendees to bring along any snacks or refreshments they can. You should provide the plates, napkins, decorations and music, however. During the party, play music from the birth year. It's likely that everyone will love to reminisce to the music and dance the night away to sounds of years gone by.