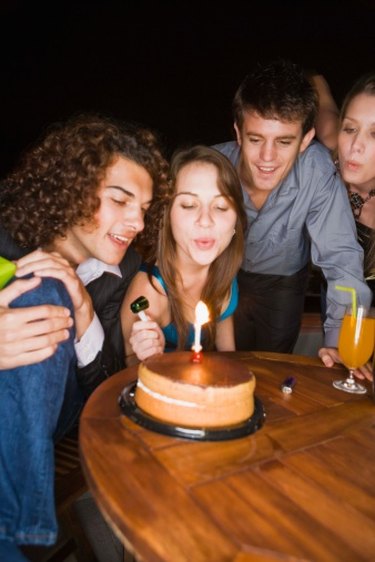 Birthdays can be expensive, and coming up with a good birthday party idea that doesn't leave a hole in your pocket can be difficult. A 17th birthday party falls between the sweet 16 and leaving for college at 18 and is another large step into adulthood. Learning about the options for affordable birthday parties can help you to make sure it is a memorable and enjoyable one.
Fear Factor Party
Using the general idea behind Fear Factor is a good way to create a birthday party that is affordable and enjoyable. You can come up with some safe stunts for the teenagers to try, but the centerpiece of the party would be the eating challenges. On the program, contestants have to eat many different disgusting foods, and this can be replicated easily and on a budget. Cook up some liver, cow heart, tongue or brain. Any otherwise discarded bits of meat are suitable, and they can generally be bought from butchers for very little money.
Bonfire Party
Inviting all of the 17-year-old's friends around for a bonfire party is another inexpensive way to have a 17th birthday party. Buy some cheap drinks, and some food that can be cooked on sticks. Everybody can gather around outside, cook food over the fire, listen to music and enjoy the evening. You can convert your garage into a party area, and hook a stereo up so there is music for the guests.
Pirate Party
For some teenagers -- especially those who have been acting in a school production of "The Pirates of Penzance" or "Peter Pan," a pirate party might be a possibility. It can be held in your home, and the decorations can be done with colored paper. Make palm trees from green and brown paper, and create a sea backdrop using blue paper. The costumes people wear to your gathering should make everything feel more piratelike. Learn a few pirate songs and encourage everyone to speak like a pirate.
Scrapbooking Party
Scrapbooking parties give everybody the chance to bring in a picture or something that reminds them of the birthday girl, and then compile it in a scrapbook. Scrapbooking is cheap, because all you need to buy is a blank book, some sticky tape, scissors and pens. Everybody brings some items that represent a special memory with the birthday girl, and the party revolves around making the book. The scrapbook will stay with the birthday girl and be a fond memory for the remainder of her life.