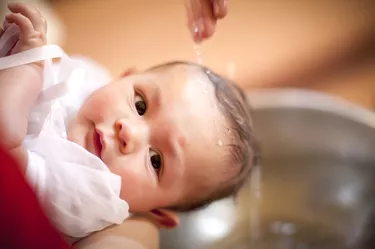 Christenings and baptisms mark one of the first occasions when parents formally introduce their child. In baptisms, this refers to the religious ceremony introducing a newly born child to the church and God. Christenings may not be religious, but instead honor the baby in a naming ceremony.
Some families may use the terms interchangeably, so purchasing a religious gift (such as a Bible or rosary) may not be appropriate. Money gifts are a safe bet for christening gifts, whether the ceremony is religious or secular. Use etiquette and common sense to determine how much money to give.
Tip
The amount of money to give in cash or to spend on a child's christening gift is highly subjective, often ranging from $10 to $100, with $50 as a median amount to shoot for. But it also depends on the relationship you have to the child as well as your budgetary restrictions.
Birthday Comparison
Baptism guides frequently compare christening spending with birthday spending, so you might feel comfortable giving roughly the same amount of money that you'd typically spend for those celebrations. People with bountiful resources who enjoy gift giving might spend $100 or more on birthday and christening gifts, while well-wishers on a budget may spend $10 or $20.
An important difference between christenings and birthdays, however, is that christenings take place only once in the child's lifetime, perhaps warranting a somewhat larger gift. Religious friends and family members may also feel that christenings deserve a more generous gift because of the ceremony's spiritual significance.
Christening Gifts from Godparents
Parents typically bestow a gift upon the chosen godparents to recognize their important role in the christened child's life. Money isn't a typical gift choice for this recognition, so don't worry how much money to give at the christening. Instead, offer a thoughtful card and simple gift, such as a framed photo of the child. Godmothers might appreciate a small flower bouquet.
Other Christening Gift Ideas
If you're steering towards money as a christening gift because you're unsure what to buy, take heart: there are plenty of readily available christening presents. Some people give the christened child a silver spoon, adding to the collection each year until the child has a full set. Silver lockets, baby rings, embroidered pillows or high-quality satin blankets make appropriate christening gifts that don't cross into religious territory. If you are considering a religious gift, Bibles, rosaries, prayer books or framed prints from Bible stories involving children make appropriate presents.
Christening Money Gift
No matter how much money you decide to give for the christening present, presentation is important. Don't just hand over a wad of crumpled cash. Tuck crisp bills or a personal check into a thoughtful card.