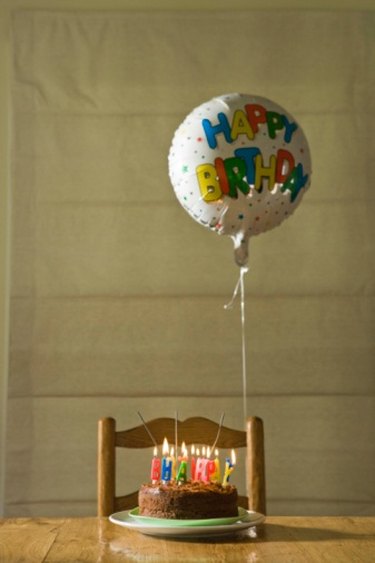 While turning 25 may or may not be significant in some people's eyes, like any birthday, a celebration of some sort is in order. You can commemorate the occasion in a variety of ways, indoors and outdoors, depending on the birthday boy's tastes. If you're low on cash, there's no need to worry. Even with a small budget, you can ensure everyone has a good time.
Potluck Dinner
A potluck dinner is a traditional group dinner which compromises a variety of dishes contributed by the guests. A potluck not only saves money for the host, but it presents the dinner guests with the opportunity to share special recipes with others. When throwing a potluck dinner, make sure to plan who is bringing what ahead of time so that there are an appropriate number of appetizers, entrees, side dishes and beverages. One guest can bake the birthday cake as her contribution to the dinner.
Matinee
If the birthday boy or girl enjoys movies or is looking to get out of the house while doing something low-key, a matinee movie showing may be a good idea for a birthday celebration. A matinee is cheaper than evening tickets, sometimes by as much as 50 percent off the regular admission ticket. You can also go out for ice cream or some other treat after the movie as part of the birthday gathering.
A Night Out on the Town
You can treat someone turning 25 to an inexpensive night of fun at a bar or restaurant during Happy Hour for drinks and hors d'oeuvres. Many establishments have Happy Hour in the late afternoon or early evening on weekdays or on Sundays. You may also find drink specials such as "Ladies Drink Free" on particular nights or discounts on appetizers. Eating appetizers instead of full entrees can help save you money.
Barbecue
When the weather is temperate, consider an outdoor barbecue birthday celebration at a park, the beach, or even at someone's home. Grills can usually be reserved for free or very little money for parties at parks and beaches. To further reduce costs, guests can all contribute toward paying for the food and eating utensils. You can bring along a Frisbee, volleyball, radio or other items for entertainment.