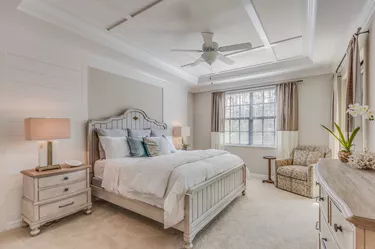 If you don't have multiple streams of income coming in, you gotta do better! Extra income will allow you to pay off those pesky student loans sooner than later, take that trip you've been dreaming about for years, and stash more in savings. There are many ways that you could make extra money on the side, it just depends on what you are willing to do. Here's a list of 10 easy side hustles to start you off.
Have some extra space in your home? Consider becoming an Airbnb host. On average, you could earn $300+ per week for a private room or $600+ for renting out your entire place. How much you can earn largely depends on your location, but people are looking for rentals all over the country. In Los Angeles, you could earn $500-$600 per week for your entire place or $225-$350 for a private room. In New York, you could earn up to $1,300 per week for your entire place and $600-$800 for a private room!
Taskrabbit allows you to pick up freelance labor gigs such as moving, cleaning, delivery, handyman work, and other everyday errands. There are truly tons of people who would just rather hire someone to do the job for them instead of getting down and dirty on their own. You also get to set your own hourly rates.
Taskrabbit has a service fee of 30 percent, so say you book a Taskrabbit side hustle job and the client pays $100; you will get $70 and Taskrabbit gets their share which is $30. So, 10-15 percent of fully dedicated Taskers can earn up to $6,000-$7,000 per month! How much you make is totally up to how many tasks you're willing to complete.
Ever had someone rant and rave over your cheesecake or those cupcakes you made for your child's class? Then you should totally look into turning your baking skills into cold hard cash. These days, people pay a pretty penny for a dozen of treats, prices as high as $30-$40! You could start by reaching out to your close family and friends, letting them know of your new side hustle. People love to run their mouths, so once you book one or two events, those word of mouth referrals should start rolling in (unless you can't really bake after all).
If you don't mind dealing with other people's kids and have extensive knowledge in certain school subjects, then tutoring might work for you. You set your own rates; tutors can earn anywhere from $20-$30 an hour, depending on the subject matter. Check your local Craigslist to see the going rates and determine your charge. There's also an option to tutor online with sites like Tutor and Wyzant.
It's not too late to jump on the Uber or Lyft train. The average Uber driver earns about between $12 and $18 per hour, depending on the city where they live and work, with Lyft drivers making similar amounts. According to Stilt.com, the average Pittsburgh Uber driver earns $18.80 per hour. Why not do some driving in your spare time?
Ever been told that your writing skills are bomb and you have a way with words? You should look into doing a few freelance writing gigs. There are a ton of them out there; you just have to do a lot of research and sending out writing samples. Freelancers can make anywhere from $20 to over $200 an hour, depending on the gig! Now get to googling!
What would you do for five bucks? On Fiverr, you can offer to complete tasks and services of your choice for a minimum of $5 per job and then there's the option to offer add-ons for each service you provide. Fiverr can be quite lucrative. According to Forbes, some entrepreneurs make six figures working through Fiverr!
Much like a Taskrabbit side hustle, Fiverr offers lots of options. You can choose to do something completely random for someone, such as prank a stranger or impersonate celebrities. You can also go the more traditional freelance route and offer graphic and web design services, resume writing, or video editing. What you offer is totally up to you!
As a virtual assistant, it's your responsibility to help your manager complete tasks like answering emails, taking phone calls, data entry, managing social media accounts, creating content, and anything else you'd do in a traditional office. As for pay, you can expect to make anywhere between $12-$50 an hour depending on the tasks that you will be assigned. Not too shabby, huh?
Do you spend all day on Twitter or Instagram and have it down to a science? You might as well be getting paid to tweet! As a social media manager, you'll be in charge of running a business's social media accounts by creating quality content, creating campaigns, and managing engagement on the accounts. Doing this part time could bring in an extra $20-$100 an hour, depending on the company's work demands.