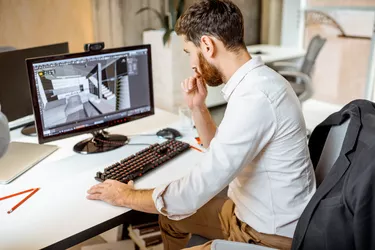 CGI, or computer-generated imagery, is used in many movies and TV shows. A talented CGI artist or team of artists can be critical to a production's success. However, competition for the highest computer animation salary is fierce. A graphic design salary differs from the salary specific to CGI artists, and getting a job working in CGI is a bit different from getting a graphic design job.
Average Salary for a Graphic Designer
A CGI artist is a type of graphic designer. According to the U.S. Bureau of Labor Statistics, the median salary of graphic designers in 2021 was ​$50,710​, or a median wage of ​$24.38 per hour​. Graphic designers who work in film and television make the most money, which is good news for aspiring CGI artists. Designers who work in specialized design services earned an average of ​$58,610​ in 2021.
Many CGI artists are considered animators, primarily when they work for major production companies, like Disney or Warner Bros. According to the U.S. Bureau of Labor Statistics, special effects artists and animators made a median salary of ​$78,790​ in 2021. Individuals working in the motion picture and video industries made precisely that amount, while those in advertising and software made more.
According to some sources, a computer graphic design salary for CGI is even higher than a computer graphic design salary. When you examine wages for job openings, the average pay appears to be between ​$70,000 and $90,000​. In 2021, the estimated average median income for an individual was around ​$63,000​, so in comparison, CGI artists and graphic designers do pretty well for themselves and their families.
How to Become a CGI Artist
A computer animation salary is more than enough for workers to support themselves, but how does CGI work? If you understand how it works and you have some experience, how do you become a designer?
Graphic designers and CGI artists almost always need at least a bachelor's degree. You will want to attend a school with an excellent computer science program and a strong history of placing students in the entertainment industry. Some of the top schools for CGI include the University of California Los Angeles, California Institute of the Arts, Savannah College of Art and Design and New York University.
It doesn't hurt to go to school near Los Angeles or New York to maximize your chances of getting a good internship at a location where you can network. Alternatively, you can plan to spend a semester or a summer in one of these design centers. The crucial aspect is getting to know the people in those areas and the tools they use to become successful.
How to Stand Out as a CGI Artist
Many CGI artists have a master's degree, but work experience may be just as valuable. In addition to your education and work experience through internships and summer jobs, you'll need raw artistic skills to succeed in CGI graphics. Even though you will do most of your work on a computer, you may have to imagine how creatures from other worlds would look and draw on your creativity for different aspects of your work.
You'll have to be good at working independently and in teams. You'll likely be one of many animators working on any given production. You'll collaborate with each other to create an overall atmosphere. At the same time, you'll need good time management and independent work skills to get your share of the tasks completed. If you're a CGI artist, some of the top companies to work for include the Walt Disney Company and Pixar Animation Studios, Electronic Arts (which makes video games) and DreamWorks Animation.