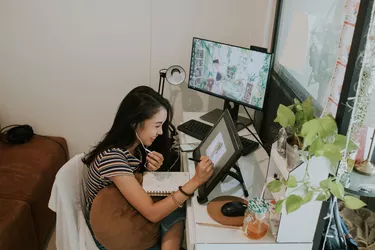 Few other jobs sound as fun as being a cartoon artist. After all, cartoons are engineered to make their viewers laugh. But as you might imagine, the field is competitive and getting a job to make animations can be challenging, even when the cartoonist salary is low. To enter this competitive field, you'll need the skills, experience and education to make the cut.
Job Descriptions for Cartoon Artists
Cartoon artists use drawing, graphic design and other artistic skills to create animations, comic strips and print cartoons. The writers at Indeed's Career Guide note that these professionals usually work for multimedia companies, but many cartoon artists are freelancers. While it may seem narrow (and it's true that not a lot of people work in the field), the work of cartoon artists varies based on their particular position and company. Some collaborate with teams to create complex, feature-length films or television episodes. Others create satirical drawings for newspapers and print media, while others work in advertising.
According to the experts at the United States Bureau of Labor Statistics, special effects artists and animators earned a median salary of ​$78,790​ in 2021, and a cartoonist salary falls into this category. Even though animators and special effects artists made the most money in the advertising, public relations and software fields, the motion picture and video industries were not far behind. The highest paying jobs can be challenging to get into, as they are highly competitive.
Cartoon Artist Education Requirements
The most essential prerequisite for becoming a cartoonist is artistic skill. These days, cartoon artists need to have creative skills and computer savvy since so much animation work is done digitally. Most job openings for cartoon artists and animators require a bachelor's degree in graphic design, computer science, animation, fine arts or a related field. In some scenarios, though, self-training and a good portfolio can be a reasonable substitute for the degree.
Generally, your portfolio is equally crucial to landing a job in this field. Most animators and cartoon artists are passionate about what they create. Can cartoons be art? Absolutely, and potential employers will expect skill, creativity and unique artistry in your designs. Work on building a diverse portfolio to show your skills and range to potential employers.
In this field, experience matters more than higher education. It makes more sense to get an entry-level job after earning your undergraduate degree than to go to graduate school. In addition, as you work your way through college, try to intern with an animation studio to gain real-world experience. You can use this internship as training to help you learn how to work well on a team with other animators and members of the production. You'll also need to be able to spend long hours working independently with meticulous attention to detail.
Jobs in the Animation Industry
There aren't many jobs in the animation field. In 2021, only about ​62,000 people​ worked as special effects artists and animators. However, the Bureau of Labor Statistics expects the field to grow at ​16 percent​, adding nearly ​10,000 jobs​ between ​2020 and 2030​. That growth is much faster than the national average for all industries. They project that there will be about ​7,800 openings​ in this field every year.
When you are a cartoon artist, the best companies to work for tend to be major production studios, such as Walt Disney Studio Animation, DreamWorks Animation, Warner Bros. and Sony Pictures Animation. The highest concentration of cartoon artists lives in New York City, followed by Los Angeles.
You should be aware that working for a major production or animation company might limit your ability to create cartoons independently. This limitation is thanks to clauses in your contract that grant your employer control over your intellectual property during your term of employment. Be aware of the implications of such clauses before you accept a position.