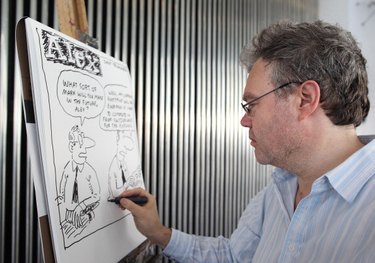 A cartoon artist can make a salary of $35,000 to $65,000, according to Salary.com. Cartoon artists draw cartoons for animated television, advertisements, newspapers, books and comic books. How much a cartoon artist is compensated depends upon the company for which he works, location, industry and experience. Employment of cartoon artists and other artists is projected to increase by 12 percent through 2018, according to The Bureau of Labor Statistics.
Training and Education
Cartoon artists on average get paid around $38,000 a year, according to College Crunch. The demand for cartoon artists is high, but the field is very competitive, so many cartoon artists get a college degree in art, graphic art or artistic design. Often cartoon artists get their start by working on a contract for a trade publication, newspaper or magazine. Lee Lorenz, whose illustrations have graced "The New Yorker" since 1956, is one example. Lorenz was hired by the magazine full time as an art editor in 1973. Charles Schultz, whose comic "Peanuts" was syndicated in newspapers worldwide, got his start with "The Saturday Evening Post," which paid $90 for a cartoon strip, according to The Schulz Museum.
Animated Cartoons
Cartoon artists who make animated cartoons for large entertainment companies are the highest paid in the field, according to Glassdoor.com. Companies such as Pixar, Dreamworks and Blizzard pay their artists between $65,000 and $150,000. These companies employ artists to produce movies, television comics and illustrations used on their websites and computer and video games.
Advertisements
Pay for cartoon artists who create advertisements for advertising agencies and large companies can range from $15,000 to $80,000, according to Incredible Art Department. Some cartoon artists are hired as freelancers and others are full time, in-house illustrators who produce brochures, television ads and ads for websites.
Newspapers, Magazines and Comic Books
Cartoon artists who work for newspapers magazines and comic books get an average salary of $28 an hour, according to The Bureau of Labor Statistics website. Syndicated artists usually make more than those who do not. "Beetle Bailey" creator Mort Walker gets anywhere from $5 to $100 per newspaper that runs his comic strip. Walker charges $375 to $3,500 per layout, depending on the size, according to his website. The "Village Voice" says lesser-known artists can get $15 to $20 per illustration.