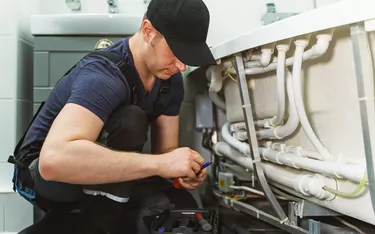 You have several optional paths to a high-paying career. You can invest serious money into getting an education in a classroom setting, you can immediately start working or you can go through an apprenticeship where you're paid to learn. A union apprentice in the field of pipefitting for plumbing can expect to earn between $14 and $20 an hour for the four to five years you're an apprentice, but once you've developed your skills, you can eventually earn a six-figure salary.
Tip
During the apprenticeship period, pipefitters in the plumbing industry will usually earn ​between $14 and $20 an hour​ as they prepare for this lucrative occupation.
Pipefitters Union Apprenticeship Pay
If you're looking for a six-figure salary, you may chart a path to becoming an attorney or Wall Street banker. But a union pipefitter salary is a bit of a hidden secret, with the potential to earn up to $130,000 once you've progressed up the career ladder. Apprentices will earn less during their time on the job, but they'll have the promise of earning more once they've gained the skills they need to do the job on their own.
As an apprentice pipefitter for the plumbing industry, you'll earn an hourly wage that's at least double the federal minimum wage. Expect to earn ​between $14 and $20 an hour​, which is on par for the average entry-level wage for a pipefitter, $16 an hour. This is ​$33,280 a year​.
Prerequisites for Apprentice Pipefitters
The best thing about a pipefitter's union apprenticeship is that it gets you into the field without a formal degree. The worst thing about it, though, is that it takes time. The typical pipefitter apprenticeship lasts ​four to five years​ and combines on-the-job experience with classroom learning. During this time, you'll be working with more experienced pipefitters, who will take the time to share their own knowledge with you.
To become a pipefitter, you'll need to be at least 18 years of age and have a high school diploma. A GED may be accepted in place of a diploma. You also might be required to pass a drug test. To qualify for the program, you probably will be asked to take a math test and demonstrate that you can use the tools of the trade, including computers.
Skills Required for Pipefitting
Although you'll learn during your apprenticeship, there are basic skills you'll be putting to use as you work toward officially earning a union pipefitter salary. Pipefitting requires ​manual labor​, so you'll need to be in good physical shape. You'll also need to be mechanically inclined since the job will require you to be able to work with tools and read blueprints.
Before you sign up for a pipefitter's union apprenticeship, you should also be aware of the level of ​troubleshooting​ involved with the job. You'll need to be able to identify a problem and work through all of the possible answers until you find the right one.
Career Outlook for Pipefitters
One of the best reasons to start down the pipefitter career path is that the outlook is stellar. Like many fields that require technical training, there is a shortage of skilled pipefitters, leading to a demand that will only continue to grow with each decade. The Bureau of Labor Statistics predicts that the field will grow ​16 percent​ from 2016 to 2026, which is a growth rate that is much faster than average.
This shortage means that union pipefitter salary will only continue to grow in the coming years, as employers work hard to fill open positions. Pipefitters are often covered by unions, as well, which provides you both job security and support in ensuring you're compensated fairly for the work you do.