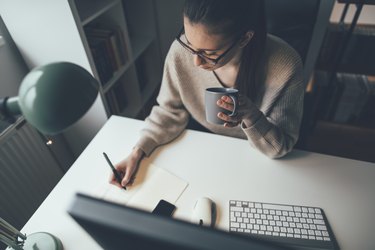 Whether you've just decided to try out freelancing to see if you'd like to launch a startup or you want to find new clients as an established freelancer with an ongoing freelance career, you might wonder which strategy to use to be most successful in finding new work. While you could advertise your freelance services on sites like LinkedIn and Craigslist alongside your professional website, you can take advantage of several freelance marketplaces that can make it easier to find job listings, advertise your skillset and prior work and even potentially get directly connected with potential clients. Take a look at five of the best freelance websites/ job boards that can help you land freelance jobs and boost your freelance business.
1. Upwork for Broad Industry Opportunities
While some sites like 99Designs and Behance only focus on freelance work in a certain industry like graphic design, Upwork stands out for offering work in most common remote industries and being one of the best-known freelance websites worldwide, too. Similar to the alternative site Guru, this freelancing platform offers plenty of flexibility with high-quality hourly rate and project-based work with multiple payment options. You can choose from work methods that include offering direct services in the marketplace and bidding on project proposals.
When signing up, you'll choose a specialization, skills and experience level and create a detailed profile that lets you advertise your professional credentials, experience and prior work. You can then start bidding on proposals or listing services for sale in the marketplace.
2. Fiverr for a Personal Marketplace
If you'd rather sign up for a freelance website where clients will always come directly to you, Fiverr is a freelance site that lets you set up an online marketplace with gigs featuring your services and any add-ons you want to provide for extra money. The site boasts a variety of professional services, so you can offer anything from copywriting and WordPress specialist to work as a graphic designer or blogger, online fitness instructor or business consultant. Clients will purchase gigs from you for the fees you set, and you can eventually qualify for Fiverr Pro to increase your income potential and exposure on the platform.
Getting started involves a similar process to other freelance websites as you'll get asked to provide your professional background and also link to professional websites like your personal site and LinkedIn. You'll then post individual gigs that often include images or videos from past work along with details on requirements, pricing, delivery times and other key product specifications. As with most other sites, you'll find everything you need for your small business.
3. Flexjobs for Screened Remote Work
Compared to other sites that often mainly offer one-time projects or otherwise part-time freelance opportunities, Flexjobs is a subscription-based remote employee and freelance platform that could even help you find a full-time job. This website stands out since Flexjobs screens all the job opportunities to help workers avoid scams, and they also provide resources that help freelancers and other remote workers find the right position.
When you sign up for a subscription, you can find jobs in numerous industries ranging from freelance writing and digital marketing to writing case studies and legal work. You'll apply individually to job postings from around the world.
​You can take advantage of several freelance marketplaces that can make it easier to find job listings, advertise your skillset and prior work and even potentially get directly connected with potential clients.​
4. Peopleperhour for Flexible Selling Methods
Offering work in several industries such as business, design, technology and communications, Peopleperhour gives freelancers plenty of ways to offer their services and find prospective clients. Similar to sites like Guru and Upwork, this freelance platform lets you send in proposals on client projects. However, you can also advertise your services directly in the marketplace similar to how you would with 99designs and Fiverr, as well as post quick job offers to get hired by clients who need your skills with short notice.
When you sign up for the site, you'll go through a certification process, complete your profile and then create any service listings you wish. You can then also submit proposals or add quick offers.
5. Toptal for Experienced Freelancers
Featuring a very thorough application and screening process that targets just the top 3 percent of freelance talent, Toptal stands out as a great resource to get connected to freelance work from well-known companies such as Shopify, Airbnb and Duolingo. If you're highly skilled and experienced in design work, finance, development or product management, then you can apply and go through several screening tests, live interviews and practice work to try to qualify for the platform.
If accepted, you can expect Toptal to directly match you with client projects as they become available. Depending on the client, you may work on-site or online.