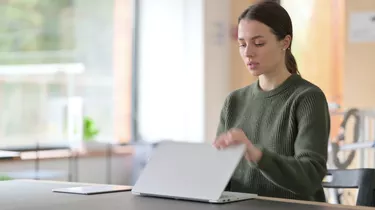 Wix presents itself as a free solution for building a website. But before you put work into designing your first website with this platform, it's important to know the limitations of the free version. Wix's monthly fees for domain-connected sites can be pricey, but you can get a professional-looking website for a fraction of what you'd spend on a designer.
Building a Website With Wix
At one time, setting up a web presence meant hiring a professional designer or programmer to put something together. But thanks to tools like Wix, you can create a site of your own. You simply choose your template and input your information.
The best thing about the Wix platform is the drag-and-drop interface. While other website design tools offer similar functionality, many lack the ease of use that Wix has. You can simply move things around, whereas with design tools like WordPress, you'll agonize over how to get a particular block to move where you want it.
If your goal is simply to develop a high-quality site for your business, one of Wix's website plans will work fine for you.
Wix lures many new members in with its promises of getting a free website designed, but for many business owners, the free version won't work. You can't use your own domain with a free website, so your site URL will be accountname.wixsite.com/siteaddress. This will not only hurt your business branding, but it will also make it tougher to get your site indexed with search engines.
Another issue with using the free version of the Wix website builder is that it won't be ad free. Paying the subscription fee removes the ads, which are fairly noticeable, from each of your pages. You also can't run an e-commerce shop on the free version of Wix, so if you have plans for an online store, free won't be an option.
If your goal is simply to develop a high-quality site for your business, one of Wix's website plans will work fine for you. Plans start at ​$14​ a month for all the basic features you need, including connecting to a domain, removing Wix ads, ​3GB​ of storage space and ​30 minutes​ of video.
But if you need to manage an ecommerce store, you'll need a business plan that lets you accept payments. These plans start at ​$23​ a month and include ​$300​ in ad vouchers.
Pros of Wix's Website Builder
If you're shopping around for a website tool, there are a few reasons Wix stands out from others.
​Drag-and-drop interface:​ The DIY builder makes it easy to design a website. Tasks like creating a blog are easy because you simply drag the elements where you want them to go.
​Business tools:​ Wix builds in all the features you need to run your business. You can sell products, make appointments through online bookings and even showcase your offerings through high-quality videos on your landing page.
​SEO tools:​ You can ensure your site will be seen thanks to Wix's built-in SEO tools. You can also connect to Google Analytics and Google Search Console.
​Mobile optimization:​ When you create a site through Wix, you can choose to optimize it for mobile. There's even a mobile editor to give you a preview of how your site will look on mobile.
Cons of Wix's Website Builder
There are some reasons Wix might not be the best for your business.
​Pricing:​ Those monthly subscription fees can add up. If you need a higher-tier plan for more advanced features, after a year or two, you might find that you've spent more than you would have spent on a one-time fee for a designer.
​No unlimited plans:​ Some other website builders will give you unlimited storage or bandwidth for your videos. Wix doesn't have an unlimited option, so you may always find that you're monitoring your uploads to make sure you don't go over.
​Tech issues:​ As with any site, occasionally you can experience technical issues. One is with the text appearing misaligned on the mobile view. Wix's in-depth article library can help with those issues, though.