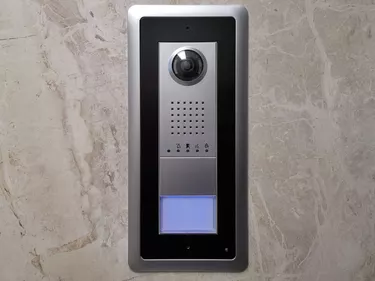 The statistics say it all. Security.org reports in ​2021​ that about ​40 percent​ of Americans have fallen victim to porch pirates – those nasty individuals who stroll up to your door and walk away with whatever the delivery driver just left for you. This could explain why Consumer Reports indicates that more than ​5 million​ smart doorbells are likely to be sold in the U.S. alone by ​2022​. That's a lot of peace a mind, and getting one probably won't break the bank, either.
How Do Smart Doorbells Work?
Smart doorbells – aka video doorbells or doorbell cameras – provide you with video and audio access to your porch over the internet. Most provide free video storage, at least for a period of time, but you can usually download any clips that you want to keep. The device hooks up to your Wi-Fi, although some require an ethernet connection.
Your doorbell records anyone who approaches your door, and it sends you an alert on your phone. You can even program some to view and record your entire front yard. The Ring Essential Video Doorbell can tell the difference between dogs or other animals and humans so your doorbell and phone don't go into cardiac mode. Some will even tap Alexa or Google Assistant on the shoulder to make a similar announcement. The audio feature lets you converse with your visitor as well, and the Arlo Essential Video doorbell lets you tap a button to play a prerecorded response.
The Arlo doorbell and Google Nest Hello both have the capacity to issue a prerecorded message from you. Or you can call emergency services if it's not a delivery driver or acquaintance approaching your door, but a criminal who has no business being on your property. Ring – the original smart doorbell that first launched back in 2013 ­– even offers a community-based smart home security app that allows neighbors to watch out for each other.
Installing and Maintaining Your Doorbell
You can choose a wired or wireless doorbell. The wireless version is battery-operated. Batteries are often rechargeable, and the battery charge can hold up for as long as six months, depending on the settings you choose. Some brands require hardwiring, which could require expert help, while others, like the Ring Video doorbell, give you the option. Ring also lets you buy additional chimes to place around your home.
And no, you won't have to build a roof over your porch to accommodate your new doorbell. They're not technically waterproof in that you can't drop one into a bucket of water and expect it to keep on ticking, but they're designed to withstand the elements. Rain or a snowstorm shouldn't affect it.
Can Smart Doorbells Be Hacked?
There are thieves, and then there are thieves. Smart doorbells blow the whistle on porch pirates and others who have no business on your property, but in the end, they're internet-dependent. When using a smart doorbells, follow the same safety and software precautions you use with your laptop, phone or other device.
The cost of these gadgets really isn't prohibitive. The Google Nest Hello Video doorbell is one of the pricier models about ​$229​. You can buy an additional subscription for up to ​60 days​ of cloud storage of your videos and some neat security features for an additional ​$12 a month​.
The Ring Video doorbell runs about ​$200​, but this is the basic model. It doesn't come with free video storage, but Ring also offers video storage packages for ​up to 60 days​ ranging from ​$3 to $10 a month​, depending on how many cameras you've installed. You also have the option of buying the Ring Elite model if you want lots of extra features. This will set you back about ​$350​.