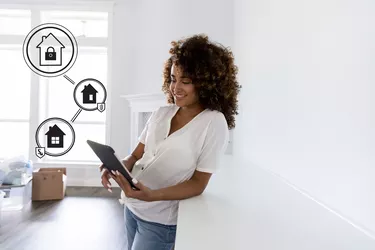 Few things are as important as protecting your home, especially when it comes to keeping your loved ones safe. Home security systems have long been a great way to do that, and many of today's systems build in plenty of extras. One popular home security solution is the Ring alarm system, which provides a do-it-yourself solution that you can link up with your other smart home devices.
Ring Alarm System Components
Ring is one of many DIY home security systems on the market today. These systems either ship to your home or are purchased at a store and contain all the components you need to set things up yourself.
​Base station:​ The most important element of the alarm system, this Ring alarm base connects to all the other components, as well as your smart devices.
​Contact sensor:​ You place sensors at any major point of entry to detect intrusion. The basic ​5-piece​ kit comes with one sensor, but Ring offers kits with multiple sensors, or you can purchase them separately.
​Motion detector:​ In addition to sensors at entry points, you boost security with a motion sensor inside your house. The ​2nd gen​ upgrade to Ring's alarm system came with a smaller profile and a better ability to disregard pets and detect intruders.
​Keypad:​ A keypad is an essential part of any alarm system. This is where you arm and disarm your alarm while entering and exiting your house.
​Range extender:​ This device ensures your base station can communicate with all the other components, which can be especially important if you live in a larger house. It also comes with a backup battery to keep your system functioning in a power outage.
What's the Ring Alarm System?
Ring first gained notice with its Ring video doorbell, which captures front door visitors and allows you to communicate with them no matter where you are. These video doorbells can be paired with the company's stick-up cam options to keep your entire house safe. Research shows that video surveillance can be a powerful crime deterrent, although they tend to be better at solving crimes than preventing them.
That's where Ring's alarm security system can help. This type of system goes beyond the doorbell concept to detect intrusions and contact a professional monitoring service, which will then try to get in touch with you and summon law enforcement if necessary. Ring operates like traditional home security systems without the need to have professional installation.
How DIY Alarm Systems Work
At one time, if you needed a home security alarm, you contacted a company that sent an installer out. You'd pay for professional installation and typically sign a multi-month contract. Some of those contracts auto-renewed, requiring customers to cancel only during the brief period before that renewal each year.
Although those traditional security products still exist, the internet has brought an alternative. DIY alarm systems allow you to set up the system in your home, hook it up to your Wi-Fi and sign up for a monitoring plan for a monthly fee.
Ring is one of those DIY alarm systems. You can purchase Ring products from the company, often in the form of kits that include a Ring alarm base station, entry sensors and a motion detector, and follow the installation instructions. The products come with the tools you need to attach them and, like the Ring doorbell, can typically be done with minimal tools, in a matter of minutes.
The Ring alarm system provides a do-it-yourself solution that you can link up with your other smart home devices.
Ring Alarm System Accessories
You can get your system up and running using the ​5-piece​ kit from Ring. But you'll also need solid home Wi-Fi and an iOS or Android device with the Ring app to manage your alarm system functions. Beyond that, there are a few other goodies that can add convenience.
​Security cameras:​ Ring offers a full line of easy-to-install security cameras, including their well-known doorbell camera and units you can mount on the exterior of your home. These cameras show up in the app to manage as part of your system.
​Alexa:​ This smart home speaker, available through Amazon, will allow you to control your security system. You can ask Amazon Alexa to show you your surveillance camera feed, arm and disarm the alarm, get activity notifications and more.
​Yard signs:​ Once your home is armed with Ring devices, you'll want to make sure others know. Ring sells yard signs you can set up to alert would-be burglars that your home is protected.
​Cellular backup:​ If you lose internet connectivity, your base station won't be able to communicate with the monitoring service. Cellular backup will keep your devices communicating, but you'll need to pay extra for a Ring Protect Pro to get that functionality.
​Video recording:​ Ring offers up to ​60 days​ of video history with its Ring Protect Basic, Ring Protect Plus and Ring Protect Pro plans.
​Panic button​​:​ Summon help at any time with a panic button you can install in an easily accessible location. Simply press and hold the button for three seconds and both an alarm will sound and the monitoring center will be notified.
​Always Home Cam:​ This product isn't available just yet. But coming soon will be an indoor surveillance drone that moves around your house on command, letting you see what's going on when you aren't at home. It's a great way to check out an alert or just keep an eye on your pets while you're away.
To get started with Ring, you'll need, at a minimum, the ​5-piece​ kit. This costs just over ​$200​, but you can get the ​5-piece​ kit with a Ring doorbell for ​$250​. This includes only one sensor, though, so if you want to arm more than one door or window, you'll need to purchase extra, at just under ​$20​ each. If you're going this route, you might want to look at the 8-piece kit, which gives you the same components with four sensors for ​$250​.
Next, you'll need to pay for a Ring plan. With a basic ​$3​ a month plan, you'll get motion detection and entry breach notifications, but for ​24/7​ professional monitoring, you'll need to upgrade to the Ring Alarm Pro plan for ​$20​ a month.
Other Useful Ring Add-Ons
Home security goes beyond keeping you safe from intruders. It's also important to protect against hazards like carbon monoxide and smoke. Ring offers a smoke and CO detector, as well as a unit that detects flood and freeze dangers under your sink.
Of course, there are also add-ons to Ring's signature product, its video doorbells. The Schlage Smart Lock works with Ring and makes it easy to allow keyless entry to your property for guests and workers. You can also purchase indoor cams that hook up to your Ring system and let you monitor the interior of your house while you're traveling or at the office.
A Ring alarm system can give you peace of mind without having to sign a contract with a security company. Since these units are self-installable, you can easily disconnect your system and take it with you when you move from one home to another, making it a great long-term security solution.