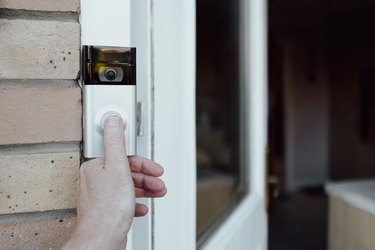 First, there was Ring Alarm, and now there's Ring Alarm Pro. Amazon's original Ring Alarm systems are tagged as first- and second-generation products, and Alarm Pro significantly extends their capabilities. It's a do-it-yourself home security system that does not require professional installation, plus a router, combining home and network security into one system. Its main DIY home security systems competitors are the SimpliSafe Home Security System and the ADT security kit.
It's called "Pro" for a reason, but do you really need all it does? Maybe, if you want your humble abode is a smart home.
The major distinction between the first- and second-generation Ring Alarm systems and Ring Alarm Pro is that the Pro system comes with an eero Wi-Fi 6 router that protects your network in addition to your home. The Wi-Fi router is connected to your modem using an ethernet cable, replacing your current network. It becomes the primary router for your home network. It communicates with your Ring Doorbell via Wi-Fi.
Ring Alarm Pro can also be set up to use a cellular internet connection with 24/7 cellular backup, but you have to sign up for a Ring Protect Pro subscription plan if you want to enjoy this perk. It comes with eero Secure to protect and guard your internet. The Ring Protect Pro plan also provides you with 24/7 professional monitoring. You can collect and store up to 3 GB of data per month and store your videos locally on an microSD card, but again, you'll have to subscribe to the Ring Protect Pro plan to do this.
The idea behind all this is to keep you and your home protected in the event of power and/or internet outages. You can keep your Ring video doorbell, contact sensors, motion detector, motion sensor, notifications, monitoring service, ring devices, smart lighting and Ring cameras online if the internet goes down. You'll have backup internet to use for other purposes as well. An internal battery will provide battery backup and maintain your alarm security in the event of a power outage.
The generational Ring Alarm systems don't offer this functionality. In fact, no other security system offers all this.
Ring Alarm Pro integrates a router, wi-fi and internet security with the first- and second-generation Ring systems.
The Alarm Pro Base Station is available for ​$249.99​ as of ​early 2022​. This is the basic setup. You can add a variety of other features and capabilities, including a range extender and cam batteries, in packages available from ​$239.99​ up to ​$429.99​. An eero 6 extender will add 1,500 square feet of Wi-Fi network coverage. As for that 3 GB of local storage for your video storage and video recordings, you can sign up for Extra Data and simply pay for what you use. Each additional GB will cost you ​$3​.
Ring Doorbells and Security Cameras are sold separately, so you can expect some add-on cost if you don't already own the first- or second-generation setups.
You'll also need a subscription plan. It's required, and it provides you with all those add-on capabilities. You can't get professional monitoring without the Ring Protect Pro plan. The monthly fee subscription is ​$20 per month​.
The process of the Ring Alarm Pro taking over in the event of a power outage isn't flawless, and this capability is really what the new system is all about. Most Ring Alarm features will shut down without power unless you also purchase a Ring Power Pack or two or five – yes, another additional cost. Otherwise, you'll lose Wi-Fi and associated features when the system switches over to its internal battery.
You'll also be dealing with two separate apps: a ring app for Ring features and one for eero features. They're not integrated into one. This means two separate keypads.
Ring.com indicates that the Alarm Pro Base Station will transform your old Ring Alarm system into the Ring Pro Security version – for now. The Base Station adds eero Wi-Fi 6 connectivity to your existing system. You're simply replacing your old Base Station with a new one.
But your existing ​$10-a-month​ Ring Protect Plus plan will only cover you until ​2025​. Then you'll be automatically upgraded to Ring Protect Pro at renewal time at twice the cost.