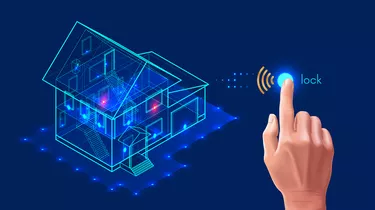 Your home is your nest. Naturally, you want to keep it safe. But safety and security for your home go beyond keeping an intruder out. There are many other bad things that a SimpliSafe system can alert you to. Today's security systems monitor what's going on in your home, from a water leak to escaping carbon monoxide from your furnace.
There are many components of a SimpliSafe home security system that keep tabs on your home. Knowing what these components are will help you customize a home security system that meets your and your family's needs.
DIY Home Security System Packages
You can start DIYing your home alarm system project with a basic package from SimpliSafe. Once you have the foundation of your security system in place, you can customize it.
One low price basic SimpliSafe package available is The Hearth. It runs in price between $310 and $390, depending on available promotions. The Hearth gives you the basics to build a system. With this system, SimpliSafe offers:
​1 base station​ – This is the brain of the system. Ready to go, out of the box, it locates and controls all sensors. This makes it easy to set up. It is also responsible for sending signals to 24/7 alarm monitoring if you subscribe to the service. It comes with a backup battery or cellular connection if you lose power or Wi-Fi.
​1 motion sensor​ – This has a 30-foot range and a 90-degree field of vision from a corner. It detects intruders, not pets, and is easy to install.
​1 wireless siren​ – This offers 105 decibels that can be used inside or outside. It's water-resistant and can mount to a wall or under an eave.
​1 keypad​ – This has a bigger, brighter display and lights up when in use. It's a wireless keypad so it can be installed where you want. It also has open window alerts.
​1 smoke detector​ – This is a photoelectric detector that alerts you 30 minutes earlier to smoke than an ionization detector.
​3 entry sensor​ – This comes with the battery pre-installed and adhesive tape pre-applied so setup is simple.
​1 keyfob​ – You can arm and disarm your security system by pressing a button. For added safety, a panic button is placed on the keyfob.
This is one package. There are others at different prices. But except for the number, they basically have the same components. So you have the option of purchasing a package and then buying add-ons to customize your system.
There are many components of a Simplisafe home security system that keep tabs on your home.
SimpliSafe is easy to install. Some 97 percent of new owners do their installation. It is monitored using your broadband connection. Depending on availability, it also has backup connections with Verizon or T-Mobile networks.
There is a three-year warranty on its equipment. In addition, you can return products with a prepaid shipping label for exchanges. Customer service is available at 1-888-910-1215.
If you don't want self-monitoring and instead want a professional monitoring service, SimpliSafe is budget-friendly. To monitor your home, you can have the standard plan for a monthly fee of $14.99 and up. The competitor, ADT, charges a monthly fee of $28.99. SimpliSafe is controlled by a keypad with voice prompts.
And although ADT has less expensive start-up fees, SimpliSafe's premium monthly monitoring plan is still less costly. SimpliSafe only charges a $24.99 monthly fee. And it is a comprehensive interactive plan with:
On-demand video for capturing evidence of a break-in
Mobile app that arms and disarms the system
Protection from water leaks
Break-in emergency dispatch
A yard sign lets the neighborhood and potential intruders know that your home is secure.
Add-on SimpliSafe Equipment
You can customize your SimpliSafe security system. There are many accessories, including:
Entry sensor - $14.99 each
Motion sensor - $29.99 each
Wireless outdoor camera - $199.99 each
Indoor security camera - $99 each
Carbon monoxide detector - $49.99 each
Water sensor - $19.99 each
Extra Sinplisafe yard sign - $3.99 each
Glass break sensor - $34.99 each
One FAQ that comes up is how to change the Wi-Fi network the doorbell needs. You'll first need to note that the new Wi-Fi network must be 2.4 GHz. SimpliSafe support has a quick step-by-step explanation.
Another Wi-Fi FAQ is: what are the Wi-Fi upload speed requirements? These vary based on the video resolution set for your doorbell. But they go from 2MB to 1MB.