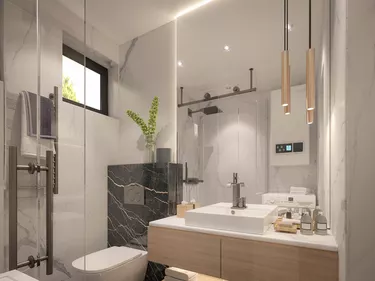 When Sir John Harrington invented the first flush toilet in 1596, who knew that the toilet would be smart one day. The high-tech bathroom is here, and there might be one in your future. But although they add convenience and ease to your bathroom experience, does this new bathroom technology add to your home's value?
Restrooms Become Smart Rooms
Electronic gadgets have been popular for a while, but bathroom trends show that gadgets also can be used for showers, toilets and mirrors. As a result, brands like Moen and Kohler are jumping on the bandwagon.
For instance, Moen offers digital and smart showers. Likewise, Kohler offers showers as well as intelligent toilets.
High-tech toilets have come a long way since the days when all you could choose was a seat warmer. An intelligent toilet has features similar to a bidet. The toilet offers cleansing with warm pulsating and oscillating water streams. A remote control lets you adjust the temperature and force of the water. This cleansing eliminates the need for toilet paper. The high-tech toilet also has warm air to dry you when finished.
Intelligent toilets have an LED nightlight for those late-night trips and a deodorizing seat that keeps your bathroom smelling fresh. In addition, motion detectors let the toilet know when you need the seat lifted.
A self-cleaning feature rinses the toilet before and after use. For example, Kohler's intelligent toilet uses a cleaning wand that disinfects itself with a UV light every 24-hours. This convenience costs $400 and up, depending on what features you want.
Make a statement while receiving a spa-like treatment with a smart shower. The smart shower can be programmed for different family members' shower routines. This means having the pulsating water and temperature you like already programed into it. In addition, you'll be able to control flow rate and shower duration. This helps reduce electricity and water usage.
The smart shower has a thermostatic valve with electronic on and off controls that can be used with a control display, smartphone app or voice commands.
The benefits of a smart shower go beyond high-tech fun: There's safety involved. Temperatures can be preset for young children or infirmed older adults. This will avoid the potential for scalding.
The equipment will cost up to $700. Installation is separate. The savings in using less water should add up to more than the equipment's cost in the long run.
There's more to a bathroom than a toilet and a shower. For some people, it's an experience. That's why chromatherapy lights are often in smart bathrooms. These are LED intense lights that are controlled digitally. The brightness can be raised or dimmed depending on your mood. Some people add aromatherapy to give them a spa experience.
Other bathroom features can now include a floor heating system, smart scale, smart faucet, smart thermostat and a smart mirror. The list goes on. But these will all cost you.
Homeowners may wonder if a smart bathroom remodel will give them a sound return on investment (ROI) when they sell. According to Zillow, the national ROI for an upscale bathroom remodel is 54.6 percent. The national average for an upscale bathroom remodel cost is $83,869. This will leave a return of $45,752.
Smart home features are incorporated into a home appraisal. They're in demand and will help a home sell faster. The jury is still out whether a high-tech bathroom will also add to the home's value. But there's a greater return than money when it comes to a high-tech bathroom: It's the feel-good return.