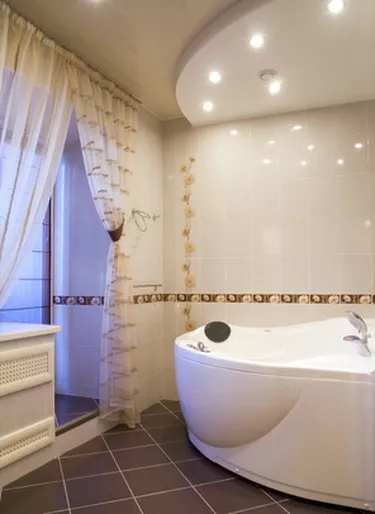 Bathrooms require special remodeling considerations than other rooms because of the constant threat of moisture damage. This means it isn't the best idea just to go with whatever material is least expensive because it may end up falling apart. However, that doesn't mean you can't save some money when you're putting in new walls and ceilings.
Tile
Tiles are probably the most common kind of material used for bathroom walls. They are waterproof and can be used to create inventive designs. Cheaper tiles work as well as more expensive varieties as long as they are installed correctly. Use a good waterproof mounting material, like concrete boards, and properly seal all the joints with high-quality grout. Less expensive glazed tile also can work just as well if installed correctly.
Fiberglass
Fiberglass is a cheap material that can be a good choice for bathroom walls. However, it can be more difficult to deal with fiberglass in terms of modifying it. Cheaper still are pre-made fiberglass molds of tubs or showers with walls included. If you can find one that fits the dimensions of your bathroom, fiberglass is an inexpensive water-resistant option.
Cladding
Bathroom ceilings are easy to overlook but require perhaps more foresight when choosing materials because of the potential for moisture damage. One cheap way to keep your bathroom ceiling looking nice is by cladding it with a water-resistant material. You can use PVC panels that are inexpensive and come in a variety of colors. Other kinds of plastic paneling also work. Painting the ceiling with water-resistant paint is another way to provide protection and color. But this may require more frequent maintenance because the water and steam from a shower can wear away even the toughest paint.