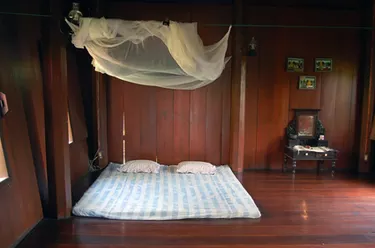 If you're considering adding a room to your home, be prepared for major costs, especially if it's a bathroom or kitchen. How much it costs depends on other factors as well, such as the size of the room, building materials and what, if any, of the work you can complete yourself. Determine exactly what you want before getting estimates so you can compare identical specifications.
Size of the Room
The size of the room determines how much building material will be required. Common sense says a larger room costs more to build because more materials are required, although this is not always the case. More labor generally is required with a larger room addition, as well, which can increase the cost.
Room Type
A vanilla 10-by-15-foot room with a closet costs much less to add than a bathroom even if the bathroom is half the size. The plumbing, tub, shower, sinks and vanity increase the cost. Kitchens are another room type that is more expensive to add, not only because of the plumbing but also because the cabinetry work can be costly. It's possible to use the old refrigerator, oven and stove in the new kitchen but it's unlikely the old cabinets will be a good fit for a new room.
Building Materials
Wood, stone, brick and block all vary tremendously in cost. What you build the room with is one of the cost factors. A framed room with plywood and insulation is less costly than a block wall. Other materials to consider are the windows, doors and floor coverings. For example, sliding glass doors usually are less expensive than French doors, acrylic carpeting often is less costly than wood and vinyl tile typically is less expensive than ceramic tile.
Pre-existing Foundation or Roof
Adding on a room from scratch costs more than enclosing a patio or deck because they already have a foundation or flooring and roof in place. If you want to keep costs down consider those two options first. Converting attic space to a room or finishing a basement are two other options that typically are less expensive than adding a new room on to the footprint of your house.
Labor
If you do it yourself on those parts of the project that you feel comfortable with you can save some money. You may not be able to pour cement but you might be able to nail up gypsum board--sheet rock--on the walls, paint and lay tile. Labor is a major factor in building. Don't tackle plumbing or electrical wiring unless you're well qualified.
Age of the Home
Older homes may need repairs to the foundation, walls or roofing when you add a room. The electrical wiring may need to be redone or insulation replaced. You might not know this until you start the actual remodeling process.