According to the United States Census Bureau, there were 116,000 contractor-built, single-family homes started in 2016, with a median contract price of $252,000. However, for 2018, the average cost to build a home is $284,425, according to a recent Home Advisor article. Various factors impact how much you can expect to pay for the construction of a house, such as location, materials and, of course, the unforeseen expenses. Building a home from the ground up gives you a unique opportunity to customize it to your specific needs and liking, but it is also no easy undertaking. Fortunately, to help you get an idea of what it could cost you to build a house, many contractors offer free consultations and have interactive cost calculators as well as informative articles on their websites to get you started.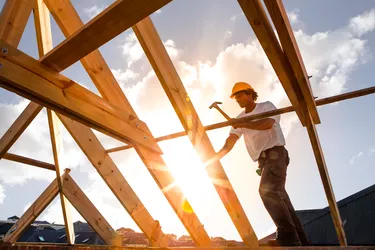 Main Costs of Building a House
When planning to build a house, you need to consider every little detail you'd like your new home to have. Generally, kitchens and bathrooms are the costliest rooms to build in a house. Because these rooms have more details and features like plumbing fixtures, cabinetry and countertops, you could easily find yourself going over budget if you aren't careful. After the kitchen and bathroom, approximately one-third of home building costs will go to the construction of the bones of the house. These necessary construction essentials include windows, timber frames, doors, exterior walls and roofing.
You will also need to factor labor into your costs of building a new home. The labor that goes into the home's foundation, exterior finishes and major systems installation can cost as little as $1,500 for framing, to more than $85,000 for interior finishing, depending on the complexity of the project. Your contractor will be able to further explain how these costs break down for your particular build as costs of new construction often vary wildly. It is worth noting that of these costs, the excavation and laying of the foundation for a home usually varies in cost the most. While you may be given one estimate for site excavation and foundation, the builder won't really know the final cost until he starts digging. Unforeseen obstacles such as poor soil or huge boulders that need removing can greatly impact your budget.
Other Considerations
Aside from unforeseen expenses like underground boulders requiring heavier equipment — and thus increasing labor costs — you need to be aware of other costs involved with building a new house. Hiring architects or design professionals might take anywhere from 5 percent to 15 percent of your construction budget depending upon your home's plans. Your contractor may be able to draft some designs and plans for your approval, and this typically costs you less than hiring an architect. Once the shell and bones of your home are complete, turn your attention to light and plumbing fixtures, appliances and outdoor amenities such as pools, patios or decks. Even the shape of your home has an impact on your budget. Homes with more corners or unusual shapes will definitely add to construction costs.
When deciding to build a new home, do your homework and research companies, read reviews, but most importantly, ask plenty of questions. Although it's everyone's goal to bring the project to completion under budget, it's better to expect the unexpected so building your dream home doesn't turn into a nightmare.