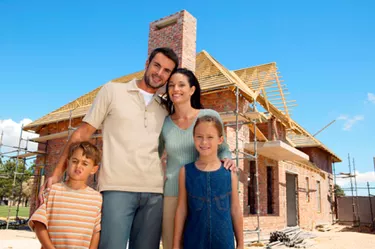 A modular home is a factory-built house that is shipped to its permanent location after it is built. Modular homes are built in pieces and come in a variety of floor plans and sizes. According to the Modular Home Network, the number of modular homes being built in the United States more than doubled between 2000 and 2010. Modular homes are sold based on a cost-to-build per square foot but there are many other costs associated with setting up the home site as well.
Builder Costs
A modular home built in 2010 costs between $50 and $80 per square foot, according to the Modular Home Network. The cost varies somewhat depending on what part of the country the house is located in. Nearly 90 percent of the modular home is built in a factory before it is brought to the home site and the per square foot price includes building, delivery and assembly of the modular home.
Property
The price of a modular home does not include the land it sits on. A modular home buyer must secure land to place the home on and prepare the land for the home, which can include grading and foundation excavation, tree removal and land and septic testing (if needed). Land prices and work vary greatly on location and parcel size.
Loans and Closing Costs
Most home buyers finance a home with a loan. A construction mortgage loan can cover the cost of the modular home and associated costs but it comes with fees of its own. The buyer must pay for an appraisal and will be responsible for loan closing costs, points and fees. Fees and closing costs vary depending on the lender, buyer's credit rating and loan value.
General Contractor Costs
Some modular home dealers also act as general contractors and can make modifications to a modular home. Other dealers require a buyer to make his own modifications; structural changes are made under the supervision of a general contractor, who will charge based on the work being done. Local governments also require building permits (for a fee) and inspections for large projects. Other expenses include building decks or garages and adding special gutters or siding.
Surprise Costs
Modular home buyers should also include room in the home-building budget for surprises such as adding features to the home that were not included in the purchase price, unexpected work required by a building inspector, costs associated with project delays (such as temporary housing) and mistakes in building or planning.