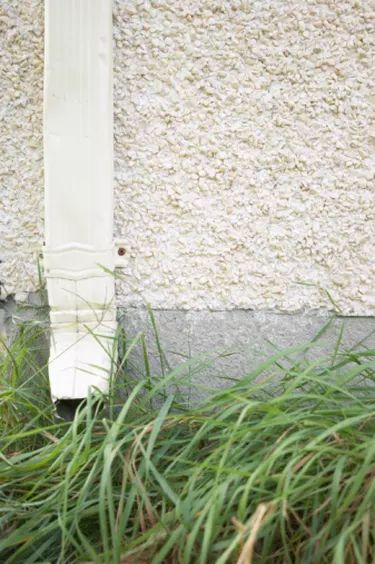 When you are planning what material to use for siding on your home, there are several factors to consider. Durability, price, look and function are all important to look into. Stucco and vinyl siding are drastically different siding options and both have pros and cons regarding price of materials and long-term cost.
About Stucco
Stucco is made from a mixture of sand and cement products, and sometimes other materials, such as latex, are mixed in as well. According to CalFinder, a home remodeling website, stucco is very energy efficient, which can cut down on utility costs, and the material is fire and weather resistant. However, CalFinder notes that stucco is more expensive than many other siding choices, and the cement can crack with the shifting of a home's foundation.
Stucco Costs
Stucco is one of the more expensive siding options besides brick and stone. According to CalFinder, on average stucco costs between $6 and $9 per square foot installed, and prices vary based on the grade of stucco that is used. Cement mixtures are cheaper than choices mixed with latex, according to CalFinder
About Vinyl Siding
According to CalFinder, vinyl siding is the most popular siding choice for homeowners today. Vinyl is the cheapest siding option and it is available in many sizes and color options. However, vinyl can trap moisture, which could lead to mold and mildew and vinyl is not a very good insulator. That means your energy bills would be higher than they would be with other siding options.
Vinyl Siding Costs
According to CalFinder, do-it-yourself vinyl siding can be found for less than $1 per square foot in 2011. For professional installation, the costs range from $2 to $7 per square foot depending on the home and thickness of the vinyl. Standard vinyl siding can be installed on most homes for somewhere between $2 and $3 per square foot.