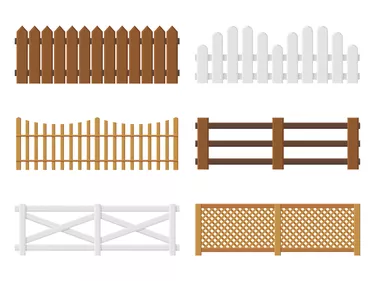 Privacy, security and year-round curb appeal are among the top reasons homeowners install yard fencing. The right fence can provide a beautiful backdrop for landscaping while providing that all-important boundary that is said to make good neighbors. But no one fencing material or fencing style suits every home. The best fence material for you depends on what works well with your home, climate, lifestyle and budget.
Factors Influencing Fencing Material
Drive through any neighborhood and you're bound to notice a wide range of fence materials, each providing a different look. When choosing a fence for your home, you'll want one that enhances the look of your home and landscaping.
While all fences provide a barrier, the reason behind the fencing project will also play a part in what type of fence you install. For instance, a decorative picket fence has a different purpose than an eight-foot privacy fence.
The type of fencing material dictates the upkeep and lifespan of the finished project, which impacts your home maintenance schedule. Material choice also directly affects your average upfront cost for materials and fence installation.
Before installing a new fence, find out what permits and permissions you might need, and any height restrictions mandated by your city or homeowners' association. These rules may also impact your choice of materials and fencing styles.
Wood is a versatile and attractive material for fencing. Whether stained, natural or painted, it has a timeless beauty that complements nearly any setting. When properly treated and cared for, wood endures the elements well.
Some popular options for wood fencing include cedar, redwood and pressure-treated pine. Pressure-treated wood and redwood stand up very well to weather and moisture, while cedar fencing and redwood are known to repel insects, such as termites, naturally.
Wooden fences are among the most expensive in terms of initial upfront cost, and they require maintenance to look good and remain weather resistant. The cost of wood fencing will vary according to the lumber market.
According to Home Depot, natural or pressure-treated wood costs approximately ​$50 to $200​ per 6-by-8 panel, depending on wood type and fence style. Pine is the least expensive option and redwood is the costliest.
Wooden fences require the upkeep of annual cleaning and the reapplication of a protective finish every two years or as needed.
Vinyl fencing, or PVC fencing panels, are a less expensive alternative to wood, averaging ​$35 to $108,​ but can reach upwards of $200, depending on the style. Vinyl is often chosen for its virtually maintenance-free material and durability.
Vinyl won't rot or be prone to insect attacks, and you don't have to repaint or stain it. The only maintenance it requires is basic cleaning with a mild detergent and water.
Composite fencing is a mixture of wood fibers and plastic polymers, offering a wooden look with the low-maintenance needs of vinyl.
The material itself is more expensive than vinyl and even more expensive than many types of wood fencing. Expect to pay ​over $200​ for a 6-by-6 panel of composite fencing, as the blend of a traditional look with long-lasting durability costs about 50 percent more than wood.
Similar to vinyl fencing, composite material requires simple cleaning and does not need to be painted or coated to protect against insects or the elements.
The range of styles of metal fencing spans from purely functional chain-link fencing to the classic beauty of wrought iron or aluminum fencing.
Chain-link fencing isn't known for its beauty but is durable and relatively inexpensive. The cost of a six-foot length of fencing is approximately ​$60-120​. As with all other fencing materials, the price will vary due to fence height and the market cost of building materials.
The galvanized steel used for most chain link is relatively low maintenance.
Like wrought iron fencing, high-quality aluminum fencing is available in traditional and timeless designs. It is durable and requires minimal maintenance. Aluminum fence panels range from about ​$85 to nearly $200,​ while wrought iron costs upwards of ​$200-300​ per panel.
Aluminum fencing is durable, rustproof and relatively low-maintenance. Wrought iron, however, will need repainting and maintenance for rust.
Other Cost Considerations
There are more costs to a fence beside the cost of fence panels. You'll also need fence posts, gates and hardware. Depending on the material you choose and your experience level, you'll also need to budget for installation costs, which will significantly boost your bill. In 2020, the average price for installation by Home Depot was ​$4,600​.