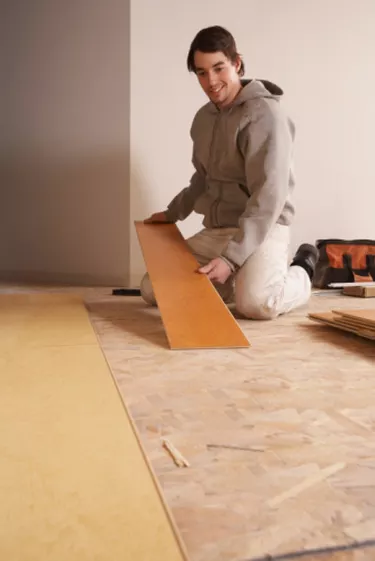 Laminate flooring is beautiful, durable and a good alternative to traditional hardwood floors or carpeting. However, when looking to sell, many homeowners are unsure as to whether or not laminate flooring will increase the value of the home. The answer relies on a number of factors, such as the current flooring and what potential buyers are looking for in a home.
Advantages
There are many advantages to laminate flooring that may increase its value to potential homebuyers. Laminate flooring is extremely durable and resists scratching, requiring less long-term maintenance. Also, laminate is stain-resistant and the floor color does not fade, which means that even in sunlit areas, laminate will retain its beauty. This is a definite plus for buyers. Laminate is less expensive than hardwood floors as well, so sellers looking to increase the visual appeal of the home can do so without a huge costly investment.
Disadvantages
While there are several pros to installing laminate flooring, there are some cons as well. Homebuyers often prefer natural building materials, such as wood and stone and laminate floors, are not as valued as hardwood in the housing market. Laminate flooring also tends to be noisier than other forms of flooring and does not absorb sound as well. Laminate can easily warp in areas with high moisture content. While this is also true of hardwood floors, wood floors are repairable, while extensive damage done to laminate requires replacement.
Seller Considerations
The decision to install laminate flooring falls squarely onto the seller. If the current flooring of the home is in disarray or damaged, replacing it with laminate will increase the home value. However, if the carpet or hardwood is in relatively good condition, it is not advisable to replace the flooring with laminate as this would not significantly improve the asking price. Also, hardwood flooring is preferable to many buyers, so repairing a damaged wood floor, rather than replacing it with laminate would make good fiscal sense in the long run.
Bottom Line
Laminate flooring, in good condition, improves the value of the home over traditional wall-to-wall carpeting. However, hardwood floors are still more valuable to potential buyers than laminate flooring. Consider the condition of the flooring, the expense of repairing or replacing the current floor and the overall aesthetic advantage laminate would bring to the home before deciding to install laminate. Also look at other homes sold in your area, and their flooring may help you decide what buyers are looking for.