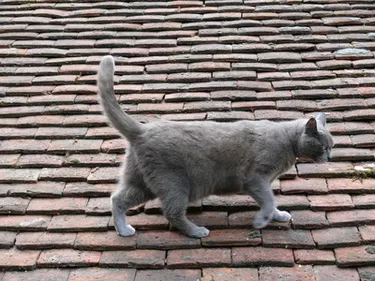 One of the most important parts of any home or building, roofing provides shelter from the elements not only to the occupants and their possessions, but to the walls and floors of the buildings as well. While this component of the building is often expensive, several more-frugal options exist that provide the homeowner with a roof without tremendous cost.
Built Up Roof
Built up roof, also known as BUR, is one of the most common for buildings and is also used on the roofs of many homes. This process uses three plies of waterproof material joined by layers of hot tar. After the last of the layers is laid, the top is tarred and then covered with light-colored smooth stone gravel. The cheapest option for buildings and a very inexpensive roofing option all around, the gravel also makes the roof fire retardant. Still, like all tar constructions, the roof can smell in the heat of the midday sun. Although this roofing is cheap to install, it can mask the location of leaks and be hard to maintain.
Composite Asphalt Shingles
Composite asphalt shingle is the most common roofing option for homes because it is also one of the least expensive to install and maintain. Because asphalt shingle is a common installation, finding contractors to install the roof professionally is not a problem. Aside from being cheap to install, asphalt shingles are easily purchased at the hardware store and are easily replaced. This roofing option is also fire resistant and comes in several different colors and styles. Asphalt shingles are subject to mildew, mold and other forms of rot, however, which can contribute to a shorter lifespan than other roofing options.
Engineered Rubber or Plastic
Also available in a variety of styles and colors, engineered rubber or plastic roofing is relatively new to the market. This substance is made from reclaimed and recycled material and, as such, is more environmentally friendly than the composite asphalt shingles. This type of roof is also lighter than other roofing options such as slate or shingle and can last as long as 50 years.
Thatch
Of course, for homes not in danger of flash fires, thatch is an inexpensive and surprisingly sturdy option. This type of roofing is literally made from grass and, when professionally thatched, can effectively insulate while holding out rain, snow and wind. Although this type of roofing has been commonly used for thousands of years and is still in use today, many have switched to other roofing forms because of the flammability of thatch.