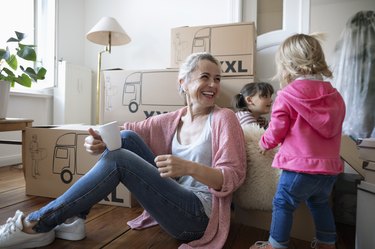 U.S. homes are selling fast. As of March 2019, according to Realtor.com, the average house stays only 65 days on the market before it sells. Some homes sell so fast, they never even go on the market. When you have the perfect combination of a motivated seller, a motivated buyer, a healthy market environment and a house that is the "perfect home" for the buyer, a quick sale can indeed move quickly.
Tip
A quick sale on a house means that the property isn't on the market for a long time, typically selling in less than the average time frame that other houses are selling -- as of March 2019, this means less than 65 days.
Market Influences on Quick Sales
Some of the factors that influence home sales are a product of the market, not the house:
Most homes are sold every year between March and June, with April hitting a high sales point. Fewer buyers are looking in September and October, so selling may take longer.

Low mortgage rates make more people eager to buy. A larger pool of buyers can mean less time to find one willing to buy your house.

If it looks like mortgage rates are going to rise, buyers may rush to close on a house while rates are still low.

If the economy is doing well, buyers are more willing to invest money in a house.
House-Specific Influences on Quick Sales
Each house has unique characteristics that help or hinder how quickly it moves from "For Sale" to "Sold" status such as:
Price: If you price your house above current market values, it's going to sell more slowly.

Condition: Whether it's a starter home or a luxury condo, it'll sell faster if it's clean and there are no visible flaws or needed repairs.

Location: A house in a good school district increases buyer interest. Sitting on a busy intersection reduces it.

Seller's Role in Quick Sales
The homeowner also has a lot to do with whether her home sells quickly:
If the owner is willing to negotiate and compromise on price, it's easier to find a buyer.

Owners who are open to last-minute showings and visits from potential buyers will sell their homes faster.

If the owner isn't confident in the market — she's not sure she can find a buyer — the added desperation may make her more eager to cut a deal.

How to Sell Fast
Setting the right asking price is an important step to moving your house. This is as much about the current market in your neighborhood as it is about the value of your house. Setting a price below that of comparable houses of similar quality is a good method for attracting buyers.
A real estate agent or a professional appraiser can figure out what the value of your house is in the current market. If you're going it alone, look at the price of similar homes in your neighborhood that have sold recently. Also, study online listings or real estate ads in the newspapers to help clue you into the current market.
Curb Appeal Influences Quick Sales
Making necessary repairs is important, but it's not enough. Your house also needs curb appeal, an attractive exterior that makes it look desirable. Painting the outside, weeding the yard and possibly investing in some extra landscaping will help create a great first impression. Keeping children's toys and other odds and ends tucked away doesn't hurt either.
"The first impression is the only impression"—HGTV
Depersonalize Surroundings for Quick Sales
Seeing your personal property and mementos all over the house can make it look cluttered to buyers. Putting a lot of your possessions in storage when the house goes up for sale makes it easier for buyers to imagine themselves living there.
Professional Tips for Quick Sales
You can enhance the appearance of your home to make it more appealing to potential buyers without breaking the bank by using these tips:
Position chairs in the living room so that prospects can imagine themselves sitting and chatting comfortably.

Emphasize key features. For instance, if the fireplace is a selling point, draw eyes to it with art, or an attractive plant or vase.

Arrange furniture carefully. When prospects take a tour, they should be able to walk without awkward detours around chairs or desks. If a piece of furniture obstructs a feature you want to highlight, move the piece or put it in storage.
Houses painted in warm neutral hues sell better than homes with bright colors. This can leave your home looking subdued and dull, so add touches — decorative hand towels, pillows and plants — that provide the rooms with a splash of color.
Open the windows so there's plenty of sun. Replace your bulbs with brighter ones.

Bake bread or apple pie in the oven before a showing to give the house a great smell.

If you have pets, clean up the areas of the house they occupy as much as possible.