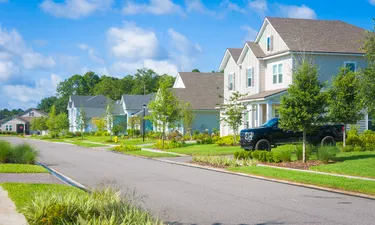 The first impression of your home sets the tone. When someone walks through your front door, they've already assessed your home and you. That assessment is based on your home's curb appeal.
Exterior of Your Home Matters
How attractive does your home look from the curb? From a pretty hanging basket to a sidewalk without any cracks, curb appeal means a lot. It shows the world that you care about your house.
Keep in mind that no one can see the upgrades you've made inside your home. People only see that the door hasn't been painted for a long time. That affects their perception of both the house and you.
Curb Appeal Affects Home's Value
Perception is one thing, but numbers talk. Curb appeal affects your home's value. The monetary value of homes in your neighborhood may be comparable to yours. However, if yours has excellent curb appeal, it puts your home's value higher.
But you also must factor in your neighbors' curb appeal. If too many homes in your neighborhood have bad curb appeal, it can diminish yours and affect your home value.
The combination of a property's curb appeal and the neighbors' curb appeal generally accounts for 7 percent of a house's sale price.
This effect is more pronounced in neighborhoods with above-average curb appeal during a weak housing market.
Home's Front Yard Affects Refinancing
A lot goes into refinancing a home. The financial institution wants a lot of financial information. One of the most critical pieces of information they need is your home's market value. That means you need to provide an appraisal.
There are several ways to appraise a home, which include the in-home, desktop, drive-by and hybrid methods. During the pandemic, desktop and drive-by were the methods used and are still acceptable by many financial institutions.
Desktop appraisals use online information such as property records, floorplans, comparable listings in your neighborhood and more.
Drive-by appraisals are based on the exterior of your home. So that dilapidated garage door or cracked concrete driveway affects your home's value. And if you don't mow your front yard, that could make a difference.
Prospective Buyers Influenced by Curb Appeal
When prospective buyers pull up to your home, their first look is the landscaping and overall appearance of your home's exterior. A positive first impression could make or break a deal.
Even if the homebuyers make it through the front door with an open mind, your recent home makeover may not overcome what they first experienced. If they're interested, they may not offer your asking price.
By investing in some eye-catching curb appeal, you could increase your offers by thousands of dollars.
Curb appeal affects your home's value.
Homeowners don't necessarily have to put a fortune into their front yard to wow future homebuyers. Simply mow the lawn and plant flowers. This will at least give the lasting impression that you care.
When you plant flowers, mulch to give them a finishing touch. Greenery provides a home with a warm feeling, so purchase some shrubs and plant them around the house. You don't need a landscaper; these are all DIY activities.
Your entryway should look inviting. An arrangement of potted plants around a welcome doormat will go a long way.
Make sure you power wash your home. And while you're at it, pressure wash those gray sidewalks and driveway.
Details like having clean, new house numbers, a freshly painted front door and washed windows can make a big difference.
The bottom line is that curb appeal is important. Check with your real estate agent, and ask what more you can do to help make that great first impression.