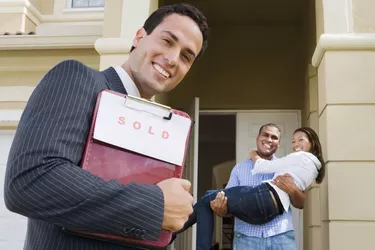 There are several ways to sell a home, but selling quickly and at the optimum price involves certain steps. You can either sell on your own or hire a real estate agent to oversee the transaction from start to finish. The latter option requires less work on your part, but usually requires you to pay a commission between 2 percent and 5 percent. Selling your home "For Sale by Owner," or FSBO, is free, but pricing, marketing and negotiating responsibilities fall on you, the seller.
Pick the Right Professional
Selecting a listing agent is a process in and of itself. Past performance is a good indicator of how well an agent will work for you, so do your research and interview more than one before signing a listing agreement. Consider the following factors and ask agents:
The market time, listing price and final sale price of the agent's most recent sales.

For references and contact their most recent sellers to ask about their experience with the agent.

For information about any comments, complaints or disciplinary activity you find on the Better Business Bureau, public-review websites such as Yelp and Angie's List, and the local real estate board.

For a proposed marketing plan, including list price, commissions and listing contract period.
Enlist Other Professionals to Help With a FSBO
If you don't hire a real estate agent, hire an appraiser to evaluate your home's condition and research comparable home sales. An appraisal report typically costs between $300 and $400 and provides an estimated fair market value of your home. Use this value as a basis for pricing your property correctly. Overpricing a home or setting a price based on the mortgage amount or amount you simply desire, can cause your home to languish on the market.
Hire a local real estate attorney to coordinate the closing. An escrow or title company can also coordinate the closing, or settlement process. This involves arranging the transfer of title and funds, as well as the deed recording. However, unlike an attorney, escrow and title agents don't provide legal advice. An attorney can also supply the mandatory disclosures sellers must, or should, supply to buyers.
Prepare the Home for Viewing
Hire a home inspector to identify health and safety hazards and other property flaws which could affect your home's marketability or price. Home inspectors typically charge between $300 and $500 for an interior and exterior inspection. Make necessary home repairs before putting your home on the market, as it can improve the number of viewings and quality of offers you receive. Also, enlist the services of a home staging company to help you de-clutter and re-arrange an occupied house, or furnish a vacant property for better showings.
Make yourself readily available to show the home to prospective buyers and agents. Respond promptly to buyers and agents who call for showings or have general questions about your home. If you can't show the home around the clock, set convenient time frames when buyers are more likely to attend a viewing, such as weekday evenings before dark and weekends.
Don't Just Go With the Highest Offer
Ask a mortgage lender to screen potential buyers. Buyers who require a mortgage to purchase your home should present evidence of mortgage pre-qualification or pre-approval along with their offer, which indicates they have the credit and income to buy. At your request, a lender can review their qualifications, provide a second opinion and point out any red flags that may hinder the buyer's ability to purchase your home.
Although it's tempting to pick the highest offer, diligently examine all aspects of the offer, such as seller credits or concessions the buyer has requested. These cut into your bottom line and sometimes buyers increase their offer price to get a higher credit back at closing. Common credits and concessions include:
A percentage of the sale price, such as 3 percent to 6 percent, to cover the buyer's closing costs.

A 1-year home warranty plan for the buyer, which can cost between $350 and $500.

Specific inspections and clearance reports for property damage such as termites or mold.