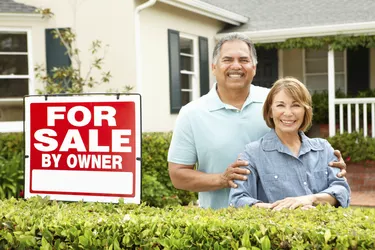 A "for sale by owner" is a property listed for sale without a listing agent. One benefit of a FSBO is the relatively lower price tag, as the seller foregoes paying a listing agent commission. A successful sale involves familiarizing yourself with the homebuying process, buyer financing, contract terms and conditions, escrow and title.
Step 1
Apply for a loan preapproval with at least one mortgage lender. A preapproval letter shows a seller that a lender has tentatively approved you for a loan provided that the property passes an appraisal and your finances do not change. The letter should indicate the maximum loan amount for which you qualify. The lender verifies the income, asset, credit and debt information you provide as part of the loan preapproval process.
Step 2
Use an online home value estimator to get an idea of the home's current market value. Online estimates retrieve information from public records and base home values on the recent selling prices of comparable homes in the area. Estimators generally don't account for factors such as local housing market trends, recent upgrades and the overall condition of a home -- factors that can affect a home's value. You must use discretion and consider the cost of improvements and needed repairs when drafting your offer.
Step 3
Hire a licensed home inspector to inspect the home for structural problems and problems with plumbing, electrical, heating and cooling systems. Visit the American Society of Home Inspectors website to find a home inspector in your area.
Step 4
Include contingencies, or stipulations for your purchase, in your offer and sales agreement. Common contingencies include inspections, mortgage financing, a home appraisal, and certain seller disclosures. State a time frame for the completion of contingencies, such as 20 days to obtain an acceptable appraisal and financing. This gives you the chance to rescind your offer within 20 days if you can't get the loan you want or the appraisal is unsatisfactory. States have different seller disclosure laws; however, all require the seller to report known improvements or problems that affect the home's desirability. Check with your state department of real estate to find out which disclosures the seller must provide.
Step 5
Show lenders you have an accepted offer when you apply for financing. The lender orders a property appraisal to help determine your maximum loan amount. An appraisal report provides an opinion of value and information about the home's condition and characteristics.
Step 6
Purchase title insurance. A title insurance company searches public records to identify liens against the property title, such as a seller's mortgage debt or tax liens, so that ownership may pass to you free and clear. While most lenders require you to buy a lender's policy before giving you a mortgage, purchasing an owner's policy often is optional. Title insurance rates vary from state to state.
Step 7
Select an attorney or settlement agent. The settlement agent provides you with a Settlement Statement, or HUD-1, the day before closing. This document specifies what settlement costs you pay and what costs the seller pays. Settlement agents ensure that all the required documents are complete before the new deed is recorded with the county.